Conservation campaigners today welcomed #MarchforGiants, the world's first ever virtual elephant herd as it arrived in Britain from Hong Kong and Times Square, New York.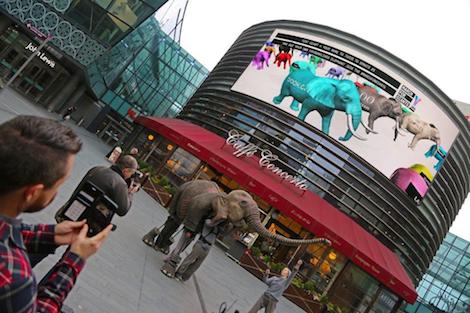 As you can see from the picture above, the herd was joined at Four Dials Square in Westfield Stratford City, London, by Oona, a spectacular full size elephant puppet currently starring in the UK tour of Michael Morpugo's Running Wild at the Hackney Empire.
Two and a half thousand brands and individuals, including National Express, Maclaren, BCD Travel, and Givergy, are leading this spectacular parade of 3D computer-generated elephants to raise funds for the conservation charity Space for Giants.
#MarchforGiants is raising funds for Space for Giants, a conservation charity working across Africa with a mission to protect half of the continent's remaining 380,000 elephants by 2020.
Created online, the virtual herd set off from Hong Kong on Thursday March 23, then marched to Times Square in New York and is now continuing to trek across Ocean's Four Dials screen at Westfield Stratford City before heading north to The Media Eyes in Birmingham (March 25) and then Manchester Printworks (March 26).
It is the first time state-of-the-art digital design technology has joined with global advertising might to create a charitable event that circles the world from Asia to the Americas to Europe, illustrating the urgent need for a global response to the threat to Africa's elephants.
#MarchforGiants was a global winner in Ocean Outdoor's annual creative digital competition which fosters advances in digital out of home campaigns.