Adrian J Cotterill, Editor-in-Chief
GIG Retail and Clear Channel offered brands the chance to deliver a unique April Fools' Day this past Saturday via Clear Channel UK's Asda Live network at Asda stores.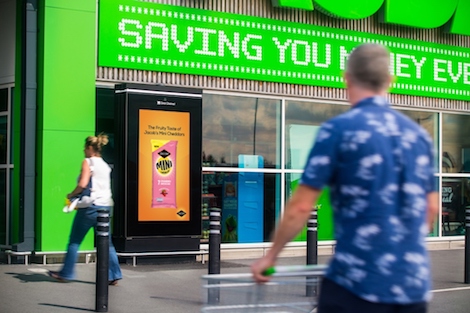 The start of the weekend saw; 'McVitie's Jaffa Cheese Cakes', 'Strawberry Cheesecake Mini Cheddars', 'Meh-mite', 'Pot Noodle Twister' and 'Quorn- the power of Quorange' landing on digital screens in local Asda stores, demonstrating the flexibility of digital in creating an engaging April Fool's opportunity whilst raising brand awareness.
The majority of supermarket shopping is still done in physical stores versus online and recent research conducted by Clear Channel and On device as part of an environment study of supermarkets states that 60% of supermarket shoppers are more likely to buy an advertised product**.
Ben Taylor, Commercial Director at GIG Retail, Asda's core media partner told us "There is a huge opportunity for brands to effectively reach a valuable audience using point-of-purchase Out of Home" said "with the ability to update content immediately to reflect offers and target specific stores, brands tell us they are increasingly investing in retail media as it gives them access to a diverse audience, UK wide coverage, targeting and creative flexibility".
Martin Corke, Marketing Director at Clear Channel UK said "Our digital network is all about inspiring shoppers and driving sales. The unmissable and highly flexible Asda Live screens engage shoppers at precisely the right moments. This April Fools' activity is a great example of brands using the creative power and technical capabilities of DOOH to maximise engagement, at moments that matter for advertisers and audiences alike".
** Source: Environmental Study Supermarkets 2016; Clear Channel & On Device.