Russ Curry, Ministry of New Media
Leading applied technologies manufacturer, Trueform Digital, has just announced the launch of a double sided version of its ruggedised outdoor 75" digital display.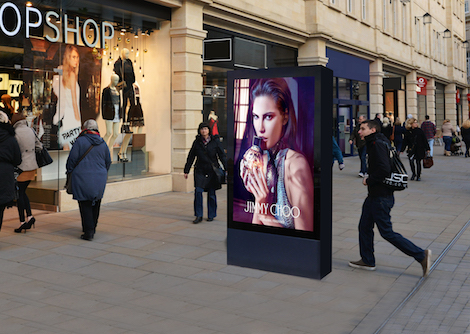 Available from May 1, 2017, Trueform's slimline Fuzion AQ75-DS6 double sided ruggedised LCD-TFT display is designed for full outdoor use, making it ideal for DOOH digital outdoor advertising and smart city display applications in a wide range of harsh ambient conditions.
Jonathan Morley, Trueform's CEO told us "Our slimline, double sided 75" display is the latest in a range of products that we have developed to meet the demands of the rapidly growing DOOH market internationally. The new product embodies the pioneering technology and manufacturing techniques that the industry have come to expect from Trueform's 30+ years of experience in the design and manufacture of outdoor digital displays and will add to the 50,000+ hardware products we currently have installed on-street in cities throughout the World".
The display can be provided as a free standing unit or fully integrated into a bus shelter, reliably providing 24/7 operation in all-weather conditions up to 50°C in direct sunlight, offering unparalleled visual clarity, superior contrast and high brightness.