Signagelive has just launched Calendar Widgets in the Signagelive Marketplace. The new Calendar Widgets enable simple connection to Google and Microsoft Office 365 Calendars with a range of customisable HTML5 templates for both full-screen and multi-zone display.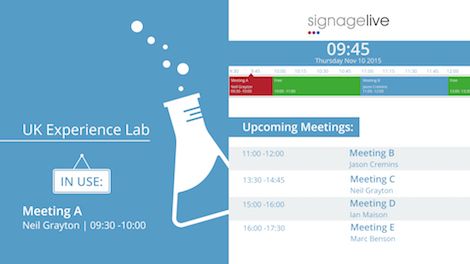 Jason Cremins, CEO of Signagelive told us 
"Displaying calendar information on displays is now a mandatory requirement for corporate, government and education digital signage applications, especially where room calendars need to be visible in reception areas and outside meeting rooms. Our free Calendar Widgets bridge the gap between; displaying a Google or Microsoft web calendar on a display and the premium paid-for room booking solutions. In addition, our HTML5-based Calendar Widgets are easily customisable allowing our Value Added Resellers and customers to modify the visual design and layout of the Widgets to match their branding and content requirements."


Signagelive network administrators can easily connect their Office 365 and Google GSuite accounts to the Signagelive Calendar Integration App and allocate a person or room calendar to one of a selection of Calendar Widget templates available, before publishing to a Signagelive supported display or player. A Calendar Widget can be displayed permanently on screen or within a playlist containing other media either full-screen or in a zone within a Signagelive multi-zone layout.
In addition to displaying calendar information, intelligence integrated into the Signagelive Calendar Widgets automatically updates the style of each Widget. An example is the background of a Calendar Widget dynamically changing from green (room available) to red (room in use) based on the event in the calendar and the time of day. Where a device, such as the IAdea XDS-1780, incorporates programmable indicator lights the Signagelive Calendar Widget can be configured to change the lights from green to red when the room status changes from 'available' to 'in use'.