Signagelive has released a Web Triggers API enabling third-party applications to change the content displayed on Signagelive connected SoC Displays and external players in real time, regardless of the number of devices or locations.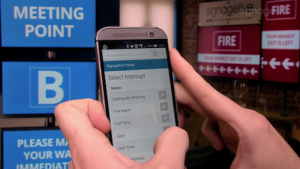 There are a multitude of use cases for integration with Signagelive Web Triggers including: Mass Notification and Emergency Messaging, Assisted Point of Sale enabling control of digital signage content from a mobile device, and voice activated digital signage.
To demonstrate the flexibility of Signagelive Web Triggers, the Signagelive team have created experiences that show both bt.tn triggering content changes with a button press and Google Home to control content using voice commands.
Marc Benson, CTO of Signagelive told us 
"The public launch of our Web Triggers API has been widely anticipated by our resellers and development community. We have been working with numerous companies and individuals during our Beta testing phase and are excited to see the range of applications that they will bring to market utilising the Web Triggers API."

Further information and to sign-up for access the Signagelive Widget API and Developer Community visit can be found here.
Signagelive is a private company that has been supplying digital signage software and services to multiple vertical markets including; retail, education, fast food, hospitality and private enterprise since 1997. The company is headquartered near Cambridge in the UK. It has subsidiary offices in Chicago and Singapore and provides its digital signage solutions through an established network of resellers, distributors and channel partners in EMEA, Americas and Asia Pacific.
 
Signagelive's innovative technology is currently powering digital signage applications for single devices through to the largest digital media networks reliably, efficiently and cost effectively to thousands of customers in over 41 countries.