Changing Environments, the company behind the solar-powered bench Soofa, has closed on a $2.5 million seed round that it plans to use to add staff and further develop a secondary product.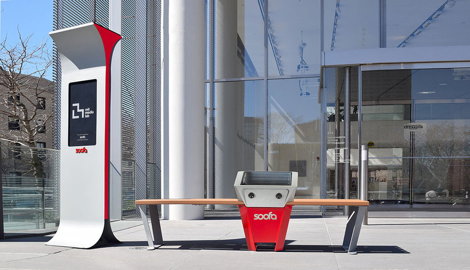 According to CEO Sandra Richter, the funding came largely from firms in the Boston area, where the company is headquartered — the main backers in the round were Underscore VC, Pillar and Accomplice who she says were particularly interested in expanding its 'communication platform' which powers its digital street sign.
The sign uses E Ink to show custom content, including advertising, transit schedules and announcements. This year, Richter said, the company plans on launching a way for people to submit messages for the signs through a dedicated mobile app.
The data she's talking about comes from the infrastructure itself. Soofa's products can pick up on smartphones and other Wi-Fi-connected mobile devices in order to count people in the area. It's an approach Richter said is noninvasive and tends to steer clear of pulling in the kind of information people want to keep private.
People are of course are concerned about cities collecting information and using it and so part of what the people behind Soofa do when they sell to a local government, and they've deployed in about 75 cities so far, including Las Cruces, N.M., and Boston, is work with various departments on issues such as #IoT guidelines and data privacy standards.
Sandra Richter said "I think it's very clear when you're working on smart city projects, one of the big roles we need to play is informing across departments, keeping all the stakeholders aligned and working on everything from the approval process all the way to privacy guidelines".
The data can be important to cities, she added, for multiple reasons. Take the solar-powered bench deployed in a park. The bench could provide a baseline count of visitors to the park on each day of the week, allowing the city to compare between parks. That could influence things such as maintenance schedules and budget allocation. The benches could also count the number of people who showed up for an event, or track how the number of people visiting a place changes as the city makes renovations.
"Parks budgets are often the first budgets to be cut, so how can a park leader fight for their budgets and say, 'Hey, people are moving to our cities, parks are basically like our gardens. Where are people supposed to go and interact, mingle, experience city life?'".
The seed round, which Richter described as "seed one," brings the company up to a total USD 3.4 million in equity funding. Changing Environments hopes to finish a Series A round sometime in 2018.