QMS Media continues to expand their sports media portfolio (QMS Sport) and this week announced a collaboration with Duco Events as their sponsorship sales partner for the biggest fight in Australian boxing history – Pacquiao v Horn.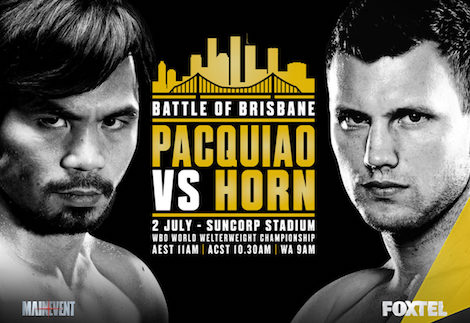 The 'Battle of Brisbane' will see Australia's own, Jeff Horn, take on global superstar, Manny Pacquiao for the WBO Welterweight World Title. The clash between the stars will be the most lucrative fight staged in Australia with promoters expecting a sell-out crowd of 55,000, and a global television audience of 150 million in over 150 countries, including Australia, United States, China, Ireland and the United Kingdom.
The sales agreement allows QMS Sport to provide advertisers with significant branding and activation opportunities in venue, via broadcast and during the lead-up to the event.
Barclay Nettlefold, QMS CEO told us "Thousands of fans will descend on Brisbane, joining the millions watching from around the world to witness one of the biggest sporting contests to take place in Australia this year. QMS Sport are excited to be part of this once in a lifetime event and offer advertisers a powerful platform in which to reach a global audience."
Rachel Carrol, Duco Events CEO was quoted as saying "The partnership with QMS Sport extends our successful venture at the recent Brisbane Ten's Rugby tournament and we look forward to producing another great event for brands wanting to connect with major sport audiences."
This partnership is billed as further evidence of QMS Sport's ability to connect advertisers to millions of highly engaged fans via broadcast, digital viewership and live attendance, and is just one of many blockbuster events QMS Sport has access to in the coming months.
June will see sell-out crowds attend the MCG for the highly-anticipated Brazil v Argentina and the Socceroos v Brazil matches, whilst the 2017 US College Football Cup will take place in Sydney at Allianz Stadium in August. Premium sporting audiences and major blockbuster events, delivered to advertisers by QMS Sport.