Adrian J Cotterill, Editor-in-Chief
'Amazon Books', the first of two New York City stores from Amazon opened its doors for the first time a week or so ago (Thursday, May 25, 2017), in Columbus Circle's Time Warner Center on Manhattan's west side.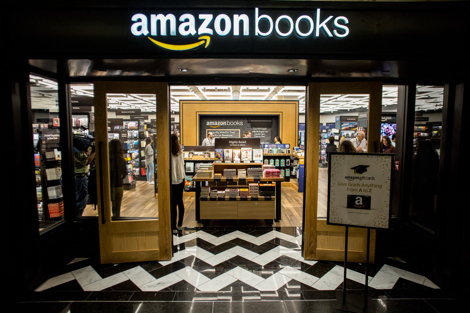 Here's a quick summary: –
'Amazon Books' is on the third floor (and has window frontage onto Columbus Circle if you want to orient yourself to find it)
It occupies 4,000 square feet
The store is cashless (you pay by credit card or the Amazon app)
No prices are shown for books (you either take a book to a 'price scanner' or use the Amazon app to find out the price)
Interestingly, all books are shown with their covers face out (if all books were spine-out, it is estimated that they would have been able to have 8,000 books in store. Face-out, there are only 3,000 books)
Amazon don't seem to want customers to linger, there are hardly any seats
Books that Amazon Kindle users have completed in three days or less are presented as 'Page Turners' (very clever)
The majority of books in the store seems to have at least 4-star ratings; exceptions include new books and new authors or books highly rated on Amazon Wish Lists
There's a 'Highly Rated' table with books that have 4.8 (and above) ratings from Amazon customers (one assumes, instead of a 'Bestsellers' table
Amazon's 'Recommended For You' is mimicked in the section 'If You Like, You'll Love'; a popular book is laid out next to three others, which Amazon employees have decided on based on similar themes and sales.
The Columbus Circle store is open Monday-Saturday, 10 a.m.-9 p.m. and Sunday, 11 a.m.-9 p.m. Amazon Books will open another store in NYC, on 34th Street across from the Empire State Building, sometime this summer.