Gail Chiasson, North American Editor
New York-based Hercules Networks, which offers Automated Charging Machines (or ACM's) for cell phones, PDAs and mp3s in theme parks and malls in 15 top designated market areas across the U.S., has made several new deals to help expand its market.
The 13-months-old company offers five different models of its ACMs, each equipped with LCD screens of 17" to 32" that run 10-minute advertising and content loops, corresponding to the time it takes for a fast charge for a cell phone. The taller models also offer an illuminated screen at the bottom for branding purposes.
"Each Asian-manufactured ACM offers 12 charging tips which are compatible with 95% of cell phones worldwide," says Paul King, CEO. "Cell phone users have no need to carry their chargers with them."
King says that Hercules Networks has an exclusive deal for the ACMs outside of Asia. The ACMs are located in Six Flags theme parks and in the food courts of Simon Property Group malls, and carry advertising from such advertisers as AT&T and Cash4Gold.

"We were surprised at how quickly we've moved into food courts," says King. "I think the economy played a big part, because the malls could see that they could make money from the advertising."
Adding content was accomplished by Hercules making a deal with CBS, thereby also expanding CBS' content reach throughout malls and theme parks around the country and at the same time give its advertisers a great point-of-sale opportunity. Hercules Networks currently reaches 41 million consumers monthly in malls.
"The benefit of hitting consumers while they are shopping, is that they are about to make a purchasing decision," says King. "Which is more effective; telling consumers there is a sale at Macy's while they are home watching television, or telling them when they are within 50 feet of Macy's and will either shop there or with the competitor? Television and radio are ancient. Out-of-Home is growing, but screens hanging from a ceiling are not the answer either. Give the consumer a needed service, and deliver a message when they are paying attention. The smarter advertisers are catching on, and the ones that fail to do so will be extinguished."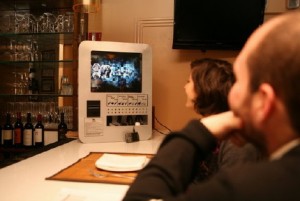 The company has also just made deals with Harris and MGM to put its ACMs into casinos in Las Vegas. The number to be installed is still being finalized.
And it has now moved into franchising under a shared-revenue deal with Battery Boost Media to put ACMs, initially, into 50 bars and restaurants in Chicago.
"We decided to try the franchise route, but with some very specific rules in the agreement, including that they must buy at least 100 of the machines a year," says King. "Out aim is to have as many ACMs as there are ATMs, but we realize that we can't to it alone."
It costs $2 per phone charge, but companies may want to give away the charge as a customer service. The machines are also available on a lease arrangement for events such as conventions.