Adrian J Cotterill, Editor-in-Chief
Israeli startup Sodyo has launched FarQR, something it describes as the next generation QR Code.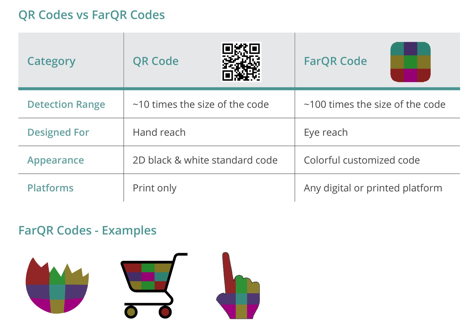 At the moment FarQR has been launched as a TV technology that the company suggests broadcasters take look at BUT Sodyo CEO Alon Raz says that they are making plans to bring FarQR Codes to other industries, he told us "We are working on expanding our offering to other industries – automobile, machinery and outdoor digital in 2017 and 2018. Imagine the applications of FarQR on cars, machines and even shipping and delivery services."
FarQR Codes have a detection range of about 100 times the size of the FarQR Code – compared to 10 times the size with legacy QR Codes and as we said earlier, whilst their technology works on any digital or printed platform, their current focus is very much on TV.
The company's patented Color Vertex Point (CVP) technology is based on colorful tags that can be printed or digitally displayed on any media and can be detected by smartphone cameras at distances ranging from 10 centimeters to more than 100 meters away – the small, colorful tags can be branded and do not take up a disproportionate amount of real estate from ads or TV screens.
Alex Alon said "QR Codes are limited to a short distance range – this was a huge limiting factor," says Alex. "FarQR Codes resolve the distance issue by allowing a detection range of 100 times the size of the code. QR Codes currently have a detection range of 10 times the size of the code. FarQR Codes are a perfect fit for television and outdoor digital. Our current focus is television, because of the obvious need and benefit for TV broadcasters."
The tags, once detected by a smartphone camera, can trigger instant offline-to-online interaction through billboards, street benches, posters, digital screens, in-store media, home and office TVs, PCs, magazines, and even product packaging.