Adrian J Cotterill, Editor-in-Chief
Amscreen has now produced more than 250 of the revolutionary new phone boxes for deployment across high-streets nationwide for Clear Channel UK's New World Payphones business using British-based engineering and design talents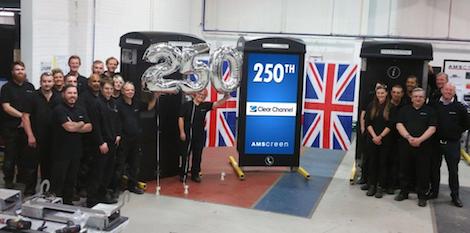 The transformation of these classic displays, announced late last year, is now breathing new life into the original phone box designs with a refreshed appearance and a full range of customer-centric services. Clear Channel has also partnered with international environmental charity, Trees for Cities, and is planting a tree in an urban area for every upgraded phone box.
The New World Payphones kiosks have been developed and engineered at a custom-built 20,000-sq.ft factory in Bolton, which was built solely for the production of digital signage equipment for the Out of Home and smart city displays sector.
Simon Sugar, Amscreen CEO told us "These 250 completed units represent a fantastic milestone for the business. In the development and delivery of these products, we were conscious of staying true to the classic phone box both in terms of his physicality but we also wanted to keep it home grown by working with British engineering talent. Because we are European based, it also speeds up production and delivery and ultimately installation. Our customers can be more involved and have complete visibility at every stage of the process"
Martin Corke, Marketing Director at Clear Channel UK, said "We're proud to be de-cluttering UK high streets by removing ageing phone boxes, and replacing them with fewer, smarter units created by Amscreen right here in the UK. The New World Payphone kiosks offer valuable free public services, and will create a lasting legacy for the local communities through our partnership with Trees for Cities."
The kiosks incorporate a standard telephone as well as high speed public Wi-Fi and interactive maps for local shoppers and tourists. Alongside this, Amscreen's Remote Device Monitoring platform provides the foundation for all current and future connected services to be activated on every site.
Amscreen are specialists in delivering connected advertising displays across Europe. With a network of 15,000 screens and more than 20 years' experience in providing screen solutions, Amscreen are Europe's No.1 digital solutions provider and innovator. The current partner portfolio includes blue chip retail businesses such as BP, Shell, Tesco and Costa Coffee as well as Clear Channel. A deal in 2016 saw Amscreen provide Clear Channel UK with their award-winning phone kiosks – a reimagination of the iconic British red phone box. Amscreen has also shipped more than 1600 freestanding and bus shelter units to further bolster Clear Channel's national digital Adshel estate.