Adrian J Cotterill, Editor-in-Chief
Here's the agenda for the DPAA #VideoEverywhereSummit which takes place Wednesday November 1 as part of New York Digital Signage Week (October 30 – November 3).
Sharing the stage that day will be thought leaders from leading brands and agencies, along with prominent journalists and authors.
The Summit, to be held at the iconic Roosevelt Hotel, will bring together nearly 800 delegates representing brands, agencies, digital out-of-home networks, ad tech, mobile/location companies, data firms and others from the full spectrum of multi-screen advertising.
The #VideoEverywhereSummit is the largest one-day event dedicated to multi-screen engagement, mobile/location data and the role of digital out-of-home advertising in today's fast evolving media ecosystem. Barry Frey, DPAA President & CEO, will lead the Video Everywhere Summit and conduct one-on-one interviews with select speakers.
Agenda topics will cover new media models, the intersection of advertising, technology and politics, revitalizing a heritage brand, the power of creativity, the new agency model, and more. Peter DeLuca of T-Mobile USA will present a keynote address.
Following opening remarks by Frey at 9am and a chat with Cat Greenleaf, host of NBC Universal's 'Talk Stoop' the agenda is taking shape with an array of brand and agency speakers…
Keynote Presentation: Peter DeLuca, SVP, Brand Communications, T-Mobile USA
"Revitalizing a Heritage Brand": Mike Linton, CMO, Farmers Insurance
"Advertising, Technology, and Politics: Where's the Line?": Kathleen Hall, Corp. VP, Brand, Advertising & Research, Microsoft
"Man and Machine and Cognitive Creativity": Ann G. Rubin, VP, Branded Content & Global Creative, IBM
Case study: Mickey Burnett, Director of Marketing, Mike's Hard Lemonade
"Following the Viewer – Everywhere!": Patrizio (Pato) Spagnoletto, Head of Media & Subscriber Growth, Hulu
"The Power of Creativity": Andrew Swinand, CEO, Leo Burnett N. A.
"The New Agency Model": Brian Nienhaus, CEO, We Are Unlimited (McDonald's agency)
Fireside Chat with Rob Norman, Chief Digital Officer, GroupM Worldwide, and Chairman, GroupM N.A.
Also providing an agency perspective will be Chad Stoller, EVP, Global Chief Innovation Officer, UM Worldwide.
There will also be a number of panels
"How Brands Add Value Today":
Paul Woolmington, CEO (moderator), Canvas Worldwide
Mark Ingall, Managing Director, Global Marketing, Citibank
Bobby Jones, Co-Author, Good is the New Cool: Market Like You Give a Damn
"The Changing Media Model – From Mobile and Social to DOOH and Programmatic":
Nick Dunham, Director of Media, Dunkin' Donuts
Other panelists to be announced
In light of the increasing intermingling of media, tech and politics, this year's Summit will also feature two prominent journalists who will address these issues…
Brian Stelter, Host, "Reliable Sources" and Senior Media Correspondent, CNN, will speak on "The Intersection of Media & Technology."
Also speaking from the media perspective will be Jim Rutenberg, Media Columnist, The New York Times.
Barry Frey told us "Once again, we are going to present a robust agenda that will tap into, and enhance, the energy and excitement that permeates the digital out of home space and New York Digital Signage Week. We look forward to a full day of lively and informative discussions that will provide actionable takeaways for delegates."
This year's #VideoEverywhereSummit will once again feature coffee and networking breaks and an experiential exhibit hall, The Intel Hall of Innovation, where DOOH networks and technology companies will display the latest in digital out-of-home content and tools to reach on-the-go consumers.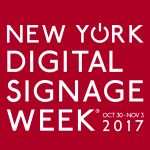 Summit sponsors to date include Adspace, Ayuda, BroadSign, Bulzi, Captivate, Clear Channel Outdoor, DOMedia, GroundTruth, Intersection, IPONWEB, Lamar Advertising, livedooh, Michelman & Robinson LLP, PlaceIQ, Reflect Systems, Sito Mobile, Ubimo, Verifone Media, Vistar Media and Zoom.
The historic Roosevelt Hotel, known as 'The Grand Dame of Madison Avenue' is the official hotel of New York Digital Signage Week. Attendees to the Video Everywhere Summit or any other of the week's events are eligible for preferred hotel rates. These rates and all Summit information can be accessed here.