Supporters of Aston Villa football club are being invited to help create their Club's new regalia in an exclusive #PartofthePride interactive campaign which will appear across Signature Outdoor screens in Birmingham next week (July 24).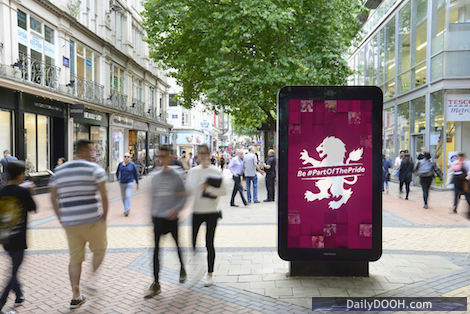 The aim is to create an interactive mosaic of fans' content which will be printed on Lion flags and banners and reproduced on the wall of the players' tunnel at Villa Park to kick-start the new season.
Created by Signature Outdoor in association with Aston Villa, #PartofthePride will feature across The Loop's 45 city centre screens and four other premium DOOH locations around Birmingham for two weeks.
Any supporter who photographs the lions on the screens and shares their picture using the hashtag #PartofthePride will be added to Villa's interactive social mosaic.
Alex Borthwick, senior marketing, digital & innovation manager at Aston Villa told us "We want Birmingham to be #PartofthePride, so we're putting our lion across the city. Any supporter who finds the lions on the screens and shares a picture using the hashtag #PartofthePride will be added to our interactive social mosaic, which is the first of its kind in Europe.
"At the end of July we'll display the mosaic in the players' tunnel before the first game of the season. We'll also be using the mosaic for a lot more upcoming activity including fan flags and banners."
To upload their image, supporters are asked to tweet @avfcofficial using the #partofthepride hashtag.
Fans can then search for their image here.