This week Samsung became the launch partner on London Heathrow's most recent exclusive large format digital opportunity, namely The Golden Gateway.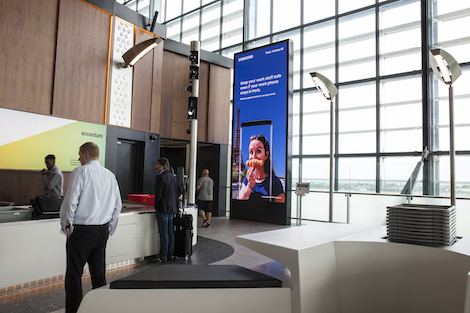 The Golden Gateway is situated at the entrance to First Wing and the striking six meter high totem dominates the beginning of the route through to the British Airways First Class lounge – it's therefore pretty unmissable to 100% of this hugely influential audience.
Alan Sullivan, Managing Director at JCDecaux Airport told us "We are delighted to launch the First Wing Golden Gateway digital site with Samsung. It's a truly iconic new airport advertising opportunity and delivers a perfect synergy of technology, luxury and an international tech-savvy audience."
The prestigious site offers premium brands a truly unique platform to immerse, engage and influence the world's elite thanks to its exclusive location. Up to 2,000 influential passengers pass through the exclusive security route every day, including British Airways First Class ticket holders, Gold Card members and their guests.
The campaign booked by Cheil through JCDecaux Airport enhances Samsung's presence in Terminal 5 where there is also complementary copy running on the T5 runway banners.