Sansi North America (SNA) Displays has provided an integrated LED display system for MSG Networks. The project included four same-sized video screens and curved LED-backlit channel letters for the MSG Networks brand.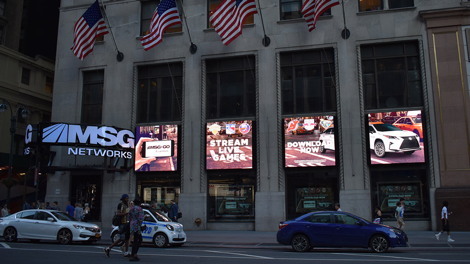 The project site, located in New York at 11 Penn Plaza (southeast corner of 7th Avenue and 32nd Street), is across the street from Madison Square Garden and Penn Station. The high-rise is also home to Macy's and AMC Networks. The busy intersection is visited by up to one million people per day.
Andrea Greenberg, president and CEO, MSG Networks said "These new video displays create another high-impact vehicle to showcase our brands, content, studios and partners. This will be a great opportunity to promote our award-winning content to a million people that pass by every day."
SNA Displays provided the four LED S|Video™ displays mounted on the outside of the building's tall windows. Each single-faced video screen is 9'5" x 9.5" and 432 x 432 pixels. The display system includes a total of nearly 750,000 pixels.
The display installation claims to be the first in New York City to employ exterior video screens with a 6.67 mm pixel pitch, meaning the center of each pixel is less than a quarter-inch from an adjacent pixel. With such a high pixel density, MSG Networks is able to produce crisp, clear content on a relatively small canvas.
Gerard Passaro, MSG Networks' senior vice president, network and technical operations told us "We are proud to be the first company in New York City with dynamic displays of this technology and clarity."
The project also called for the 'MSG NETWORKS' channel letters to be backlit with LED lighting technology. There are two sets of the branding signage, both of which extend from the building and curve towards a point about 20' from the building. The channel letters are positioned 12 feet above ground level and are fully integrated into the display system, allowing MSG Networks to adjust its branding element to complement the content on the LED displays.
MSG Networks, comprised of two sports and entertainment networks including MSG Network (MSG), MSG+, MSGNetworks.com and MSG GO, produces and develops content for its regional sports television viewers and readers. MSG Networks delivers coverage – including live games – of 10 professional sports teams in the New York and New Jersey areas: New York Knicks, New York Rangers, New York Islanders, New Jersey Devils, Buffalo Sabres, New York Giants, Buffalo Bills, New York Liberty, New York Red Bulls, and Westchester Knicks. It also telecasts hundreds of other live games and performances each year.
SNA Displays employed Landmark Signs to build the project's channel letter signage and install the display system.