BIC, the world renowned stationery manufacturer, has partnered with Kinetic UK to launch its latest Out-of-Home campaign for BIC KIDS, which has been designed by ten budding artists aged between five and 11 years old.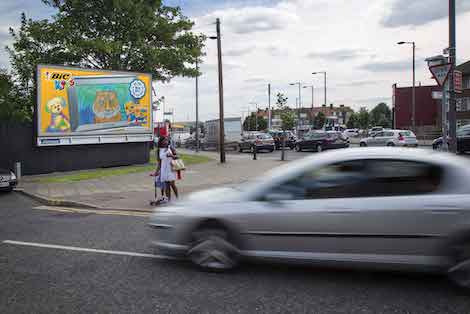 The project, coordinated in collaboration with Mumsnet, encouraged primary school children to be creative over the summer holidays by designing the next BIC® KIDS advert. Ten winners chosen by a panel of experts, have had their artistic creations taken beyond the fridge door and displayed on 48-sheet and 6-sheet posters in close proximity to their homes and around the UK and Republic of Ireland.
Rebecca Huda, Assistant Product Manager for Stationery at BIC, said: "Seeing the billboards finally unveiled is the highlight of our summer! We had some absolutely stunning artwork sent in from hundreds of children across the country and whittling them down to 10 was no mean feat.
"This has been a hugely exciting project to be involved with and has marked a big step forward in our marketing approach. Working so seamlessly with all the agencies involved has been an absolute pleasure, and we look forward to seeing the final results of the campaign in the next couple of months."
From September 14, 2017, the winning creative executions will be displayed across the UK over the course of a two-week campaign on roadside boards owned by five media owners, including JCDecaux, Primesight and Exterion Media. Kinetic UK and media agency m/SIX have worked closely with the media owners in order to place the designs within the correct proximity to the homes of the children who created them.
James Powley, Account Executive at Kinetic, told us "We're proud to have been involved in this fantastic, feel-good campaign from BIC® and Mumsnet, showcasing the creativity of the UK's primary school children across the country. These talented children could be the creatives of the future and we're delighted to be able to give them this slice of Out-of-Home fame. Coordinating the right design with the right location required close collaboration across a whole host of teams within Kinetic, and close working with m/SIX, so it's exciting and rewarding to see it all come to life. We really hope the children enjoy seeing their work up in lights when they are out and about near their homes."
The concept and strategy behind the campaign was devised by creative agency The Lucre Group.