Gail Chiasson, North American Editor
When we heard that BrightSign had just shipped its one millionth media player, it was mind-boggling: one million actual products is a lot different than one million Tweets or one million YouTube videos.
"Yes, over a million media players have been shipped since 2002 and they're found everywhere around the world in just about every vertical market," said Ann Holland, BrightSign's vice president of marketing. "BrightSign was originally a Roku brand, but as Roku established itself as a successful consumer electronics business, and BrightSign became entrenched in the commercial AV market, it became clear the two should part ways. In 2010, BrightSign was spun off into a separate company and since then the brand has been strictly BrightSign's own."
These days, BrightSign is making its 'Series 3' media players with eight different SKUs from entry level to enterprise. Sold through distributors and authorized resellers worldwide, the company's biggest markets are in retail, corporate, QSR, museums and attractions, education, stadiums and hospitality. "We have been a favorite of museums since the beginning," said Holland. "They like BrightSign because of our bullet-proof reliability. Museums also want screens with a variety of interactive options. BrightSign players can enable the use of buttons, RFID, touch, etc. Museum directors want a media player with expansive capabilities and ultimate reliability. They get that with BrightSign."
BrightSign also offers BrightAuthor, a free content creation software. "We work with most of the leading CMS providers, as well," said Holland. "Some customers use BrightAuthor; others choose another software that suits their needs. We want the customer to have a choice."
BrightSign has over 100 employees, the majority at the headquarters in Los Gatos, California, with two other offices in Cambridge U.K., and Odessa, Ukraine, each with about 15 engineers. There are also 'satellite' offices (sales people) across the U.S., Europe and Asia.
During New York Digital Signage Week, BrightSign will hold two days of free training sessions at the Hilton Midtown to allow integrators, pro AV suppliers and others to earn CTS RU's (renewal units) to renew their CTS Certifications. This is the first time that BrightSign is holding such sessions during New York Digital Signage Week.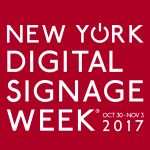 There will be four sessions on Thursday, Nov. 2, 8:30 a.m. to 4:30 p.m., and three on Friday, Nov. 3, 2017, 8:30 a.m. to 2:30 p.m.. Those interested are asked to email PR@brightsign.biz or register directly here.
BrightSign is an official sponsor of the week, a Platinum sponsor of the NEC Showcase and will take part in the Stampede Big Book of AV Tour and the LG Road Show.
The historic Roosevelt Hotel, known as 'The Grand Dame of Madison Avenue' is the official hotel for New York Digital Signage Week. Attendees to any of the week's events are eligible for preferred hotel rates.