Adrian J Cotterill, Editor-in-Chief
Perrigo, a leading provider of medicines and healthcare products, has launched an 'extra fresh' special build bus shelter with JCDecaux for the launch of a new product into its NiQuitin range.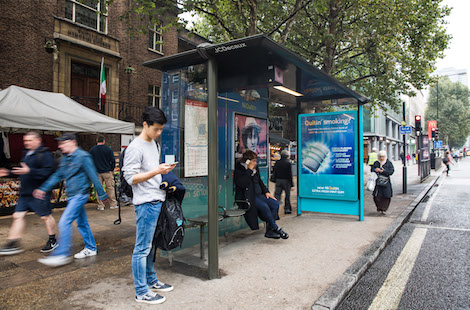 The bus shelter, which can be found in central London's Tottenham Court Road, is automatically pumping out an unmistakable, refreshing spearmint burst into the air every few minutes from 7am to 8pm until the 8th October to promote its new NiQuitin Extra Fresh Mint gum. The site has also been completely wrapped in NiQuitin's unmissable blue branding, with the headline 'Quitin' smoking?'
The bus shelter will support the brand's full GBP 2.2 million media campaign in line with Public Health England's Stoptober initiative. This also includes JCDecaux's London Digital Network, as well as mass sampling and pharmacy training.
The campaign, created in collaboration with the creative agency, was planned and booked with JCDecaux by Meridian Outdoor and Zenith.
Commenting on the launch of NiQuitin Extra Fresh Mint, Holly Turner, Senior Marketing Director at Perrigo, said "Of all the nicotine replacement formats (NRT), gum is viewed as the least innovative product by consumers with many dissatisfied by the taste. Our new gum has a unique, intense mint taste and is very disruptive so we need media choices that are highly relevant and cut through. Working closely with JCDecaux and leveraging the bus shelter OOH opportunity, I believe we can achieve this and find a strong connection with consumers as they go through their daily lives."
Ben Maher, Sales and Partnerships Director at JCDecaux told us "Perrigo is exactly the kind of ambitious partner that we love to work with. We could see that, for NiQuitin, a sensory campaign would literally be a breath of fresh air for dissatisfied consumers, maximising impact across our wide audience base to encourage more people to stop smoking. The utilisation of LDN in this broadcast campaign has been a fantastic way for the brand to widen their reach across the capital."
Of the 3.7 million units of nicotine gums sold annually, 1.3 million units are purchased by consumers who are dissatisfied with the taste. NiQuitin Extra Fresh Mint has been designed to overcome this dissatisfaction and better meet consumer demand. The new product features a unique triple flavour technology combining levomenthol, eucamenthol and Opticoolä that delivers an instant mint burst. In addition, each gum piece contains 50 to 60 layers of coating helping to ensure a high level of nicotine masking, providing a cool refreshing experience whilst effectively fighting cravings.
NiQuitin Extra Fresh Mint gum launched in Boots stores across the UK on August 8, 2017, with other retailers such as Tesco, Asda, Superdrug, Day Lewis, Lloyds Pharmacy and independent pharmacies set to launch throughout September and October.