Adrian J Cotterill, Editor-in-Chief
With one eye this week on #ShopTalkEurope taking place in Copenhagen and the other frantically planning for the now 32+ events taking place during New York Digital Signage Week, it's easy to forget that there is a big show happening in Dubai at the moment.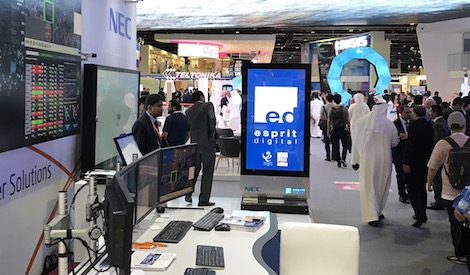 From the pictures we've been sent (and we've received many, thanks) the show really seems to be incredibly busy. Shown above is NEC Display Europe's booth – as Esprit Digital seem to be the dominant and most popular mall / street furniture vendor in the region by some way, it's clever of someone at NEC HQ to have Esprit's digital 6-sheet bang in the middle of their stand.