VMO, one of Australia's fastest growing Digital Out-of-Home providers, has just unveiled a large format digital outdoor billboard directly facing busy Surfers Paradise Boulevard.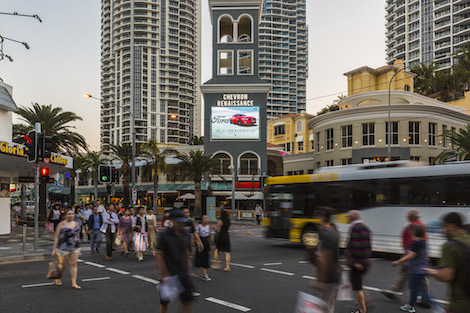 VMO claim that it is Australia's first 'smart' outdoor screen, ie. an outdoor screen embedded with 'Audience Measurement Device' technology – remember from previous posts that this is used to measure audience engagement via VMO's real-time audience measurement system DART (Digital-Outdoor Audience in Real Time).
VMO Managing Director Anthony Deeble told us "The Chevron site is now home to Australia's very first smart outdoor screen. In the first instance DART technology will be used to capture real- time audience insights – delivering real-time accountability for roadside clients. We are changing the roadside experience. VMO is testing Vehicle Recognition Technology (VRT). This technology will give us the capacity to recognise the make, model and year of oncoming vehicles – leading to an enormous opportunity for advertisers."
Anthony Deeble said "It's a clear point of difference for VMO over our competition. For the very first time, advertisers in this space will have access to real-time audience data – marking a shift away from historical data in outdoor. Soon, historical data will no longer be acceptable for large format outdoor.".
Designed for maximum impact, the new screen is a staggering 24 square metres (6m wide x 4m high). Strategically placed on the façade of the Chevron Renaissance Shopping Centre, the site will anonymously measure live pedestrian traffic and use facial recognition to detect people in vehicles.
The VMO Shop portfolio has increased to 410 locations reaching a fortnightly cumulative audience of over 50 million people. The network now includes 62 premium large format screens across the country.