Adrian J Cotterill, Editor-in-Chief
Grand Visual, has produced a smart, data-driven digital out of home campaign for Audi UK to enhance the brand's agility in the digital space and increase awareness of the advanced intelligent technologies available in their latest models. The campaign has been running October 16–29, 2017 across premium roadside screens on a nationwide scale.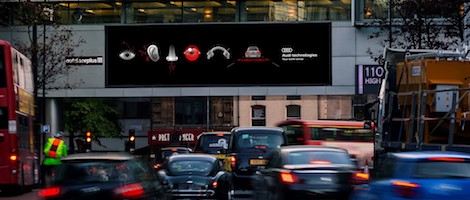 Dan Dawson, Chief Creative Technology Officer at Grand Visual, told us "This campaign is a great fit for a brand that continues to be at the forefront of vehicle intelligence technology. Thanks to pioneering brands like Audi, data innovation in OOH is really beginning to take off. Data and technology coming together to complement idea-led communication and become the new creative standard."
Created by BBH and produced by Grand Visual, the campaign brings the latest assistance technologies to life using traffic, time and weather data to trigger content that is contextually relevant at each location. For example, when the traffic is heavy, the creative will alert drivers to the 'Pre-Sense' feature; Audi's in-built technology package for predictive safety. During adverse weather, creative will change to feature 'quattro-on-demand'; Audi's renowned all-wheel drive technology which brings safety, sportiness and performance to driving – ideal for rain, snow or hail conditions. The hero concept of "Audi as your sixth sense" will also feature.
The dynamic campaign is managed and distributed through digital out of home ad tech platform OpenLoop, which analyses Transport API's and weather data and triggers the relevant creative for each roadside location. The media was planned and booked by Omnicom Media Group's PHD and Talon and spans 211 screens, across nine key cities.