Adrian J Cotterill, Editor-in-Chief
Toyota has partnered with Kinetic to deliver a nationwide digital Out-of-Home campaign using real-time traffic data to target drivers according to the context of their journey.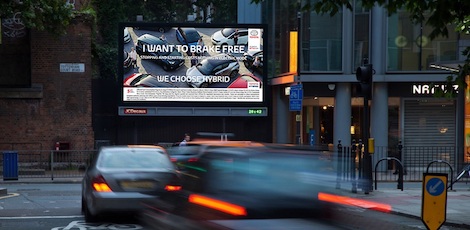 The 'We Choose Hybrid' campaign will run for two weeks on roadside digital Out-Of-Home screens at 70 locations in cities across the UK, the OOH execution is part of Toyota's wider initiative, which aims to reinforce Toyota's leadership in hybrid technology.
The campaign is powered by Kinetic's proprietary D:four Drive technology, which determines the relevant copy to display based on live traffic data of vehicle speed in proximity to each digital screen. There are three creative executions that highlight the various benefits of Toyota's hybrid technology when traffic is either free flowing, crawling along or at a virtual standstill.
Dominic Murray, Group Creative Account Director of Kinetic Active, told us "It's been a fantastic opportunity to work with Toyota on their "We Choose Hybrid" campaign in what is the largest scale use of our D:four Drive technology to date. The combination of live data, targeted creative and the brand-building reach of DOOH make this a powerful example of how brands can use context to really connect with today's audiences on the move."
The three OOH creative executions include:
"We Choose Petrol + Electric" served to drivers going 20mph+
"I Want to Brake Free – Stopping and Starting Costs Nothing in Electric Mode" served to drivers going 6mph – 19mph
Electrifying – Average Journey = 56% Electric, 43% Petrol" served to drivers going 5mph or less
Patrick Williamson, Communications Director of The&Partnership, said "This innovative OOH campaign really fits into our audience-led approach to media planning for the We Choose Hybrid campaign, allowing us to serve tailor made content and messaging to reach the right audience in the right place."
Planning and booking of the campaign was managed by Kinetic and mSix with creative from CHI & Partners. Creative executions went live October 23, 2017.