Adrian J Cotterill, Editor-in-Chief
STRATACACHE today announced that Dirk Huelsermann has joined STRATACACHE Capital as Managing Partner.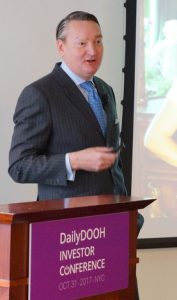 STRATACACHE Capital is a new division and team that will lead strategic deal discovery and review on a global scale. As many people will know, STRATACACHE actively reviews more than 400 deals per year in the digital signage, mobile, display, media and digital-out-of-home space and has made 14 acquisitions in the past 18 years.
Dirk Huelsermann will no doubt bring a wealth of connections and experience to the STRATACACHE team.
Chris Riegel, CEO of the STRATACACHE family of digital media/ad tech comp told us here in New York, "I have known Dirk for several years and found him to be the consummate professional. With the rapid growth rate and significant opportunity in the digital media space, Dirk brings significant value to the STRATACACHE team in his knowledge of the industry, investment experience and contacts worldwide."
Over the past several years, STRATACACHE has grown to be a market leader in digital signage globally with the flagship STRATACACHE, Scala and Real Digital Media brands and a solution-focused global integration and operations team second to none.
Dirk Huelsermann told us after his presentation at The DailyDOOH Investor Conference, "STRATACACHE has a great reputation in the industry and is known for an exceptional investment track record, positioning the company at the forefront of a global consolidation process. I look forward to working with the STRATACACHE team, as well as the portfolio of companies, to foster growth for the whole group."
STRATACACHE actively invests in multiple sectors impacting the consumer at the point-of-purchase, pursuing investments between $5 and $500 million USD while serving the digital signage needs of dozens of leading brand, retail, banking, quick-service restaurant and gaming customers worldwide.
Dirk Huelsermann has a strong background in private equity, for many years before he entered the #DOOH world he was a Senior Investment Manager for Japanese investment bank Mitsui.