Adrian J Cotterill, Editor-in-Chief
It was shortly after 15:30 Tuesday October 31st when news of the terrorist truck attack in TriBeCa, New York City, began filtering through to attendees of the DailyDOOH Investor conference, taking place at Dentons.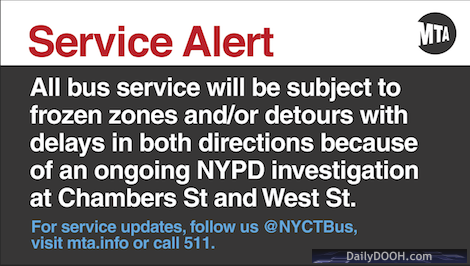 By the time of the closing session, the carnage became clear: eight dead, another 15 injured in the worst terror attack on NYC since 9/11.
During the last few sessions of the conference, regular attendee Paul Fleuranges, VP for Corporate Communications at NYC Transit, had moved himself to the lobby and was discussing with his staff back in Lower Manhattan what messaging they were posting. In particular they weighed up whether to post a message to the digital screens that adorn subway entrances near the attack.
"I think we should take over the DUPs with a message warning customers (that) bus service in the area is impacted by the attack," he was overheard saying. "Let's not scare people but we need to let them know, service is severely impacted."
Within a few minutes they had settled on a message and discussed their plan with senior executives at the MTA who immediately greenlit the plan. Paul's next call was to OutFront Media's Rich Ament. Outfront operates the Digital Urban Panels (DUP) for the MTA.
Obviously, given what had happened, Paul's thinking was that they shouldn't have adverts running on the DUPs in the area.
Paul and I discussed emergency alerts and the role of #DOOH in the safety of a city's citizens at #dse2017 earlier in the year, and when he had got off the phone he told me, "No doubt our discussion at the DSF strategy summit prior to #dse2017 played a role in my thinking. I think that as end users and stewards of information, we need to be congnizant of what's happening around our screens and use them not just to generate revenue, but to inform those who view them with appropriate messages during emergencies. Your discussions of the attacks in London in March resonated with me."
Transit has used the Urban Panels and its On The Go screens to communicate service status in the aftermath of Superstorm Sandy and other weather events, BUT this is the first time that they have used them to communicate to customers during an emergency event. NYC Transit is already working with the Federation of Internet Alerts (FIA) to incorporate CAP alerts into its internal communications digital network.
Paul summed up his 30 minutes of frenetic activity with the following: "We hope not to become proficient at this, but that said we have to be prepared to respond."
BE SAFE EVERYONE. TERRORISM WILL NOT WIN.