Adrian J Cotterill, Editor-in-Chief
Digital creative agency Clusta and CBS Outdoor have partnered to develop an interesting iPhone-enabled advertising platform for the media owner's digital LCD screens at Westfield London.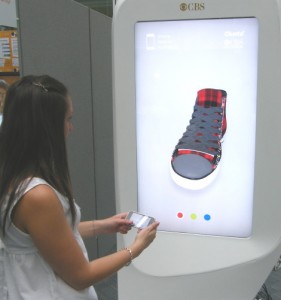 The platform, which is a claimed media first, works by connecting the consumer's iPhone to the digital 6-Sheet via WiFi or 3G (detail of exactly how that is achieved were not divulged nor how it would work in a mass market or indeed 'multi-player' environment).
From there it is pretty obvious that by swiping in either direction on the iPhone's touch screen, the user is able to make the object represented on the display spin to the left or right – Apple's 'pinch' and 'stretch' finger gestures also allow the user to zoom in or out of the object displayed on the screen and change the colour of the item.
Russell Townsend, Managing Director at Clusta told us "This revolutionary platform showcases the huge potential that exists for digital outdoor to use emerging technologies to captivate consumers in its unique environments. Digital outdoor is an incredibly innovative medium and as an industry we are really just scratching the surface of the weird and wonderful ways it can engage."
At the recent The Media Playground event the screens featured a trainer as the object consumers are able to interact with in order to demonstrate campaign possibilities to potential advertisers.
Lee Cutter, Head of Retail Sales at CBS Outdoor said "With the flexibility of our digital portfolio in terms of day-part and location-based targeting, we've delivered some excellent strategic solutions for our clients. The addition of this level of consumer interactivity will be a major additional benefit for advertisers wishing to capitalise on the enhanced responsiveness of consumers at Westfield."
Although it is quite clever the solution is actually very limited if it only works with the iPhone – having said that we can see it working quite well with the way the retail folks at CBS Outdoor sell their digital assets at Westfield so which brand will be the first to embrace it?
There was no information also on whether this was intended to be an 'open' platform and whether any other outdoor media owners would support it.
About Clusta

Clusta is a pioneering digital creative agency that has been driving technological innovation for creative excellence for the past ten years.

Working across all interactive and screen-based media including web, mobile and outdoor, Clusta continues to push digital and creative boundaries for clients such as Coors, Polydor, Virgin Money, Tesco, IPC Media, Discovery Channel and many other of the world's leading brands.

Nominated for a Cyber Lion at Cannes 2008 for its pivotal Publicis & Hal Riney website which allows users to navigate the site by hand gestures alone via a web cam, Clusta provides the full range of digital creative services including strategy and concept creation.