Adrian J Cotterill, Editor-in-Chief
Honolulu's Daniel K. Inouye International Airport has expanded its digital infrastructure with the addition of four large-scale NanoLumens Nixel Series LED displays. Oklahoma City-based Ford AV installed a total of six NanoLumens displays at the airport with the first two displays installed in 2015.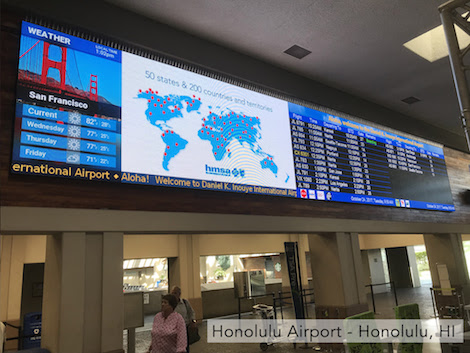 NanoLumens Regional Sales Manager Eric Seigler told us "The growing installation significantly improves the travel experience by providing passengers with a state-of-the-art communications platform that delivers updated information on flight times, news, weather, breaking news and tourism videos. Our LED visualization solutions are becoming the standard for engagement in leading airports around the world, including the Daniel K. Inouye Airport in Honolulu, Hawaii. Working closely with our integration partner Ford AV, we have upgraded the airport's public information infrastructure to simplify travel with unrivaled display solutions."
Ford AV has been working with NanoLumens for several years, forging a successful partnership that is built on NanoLumens' ability to custom design LED visualization solutions in any size, shape, curvature and pixel pitch that are also thin, lightweight, environmentally friendly and easier to service than other displays.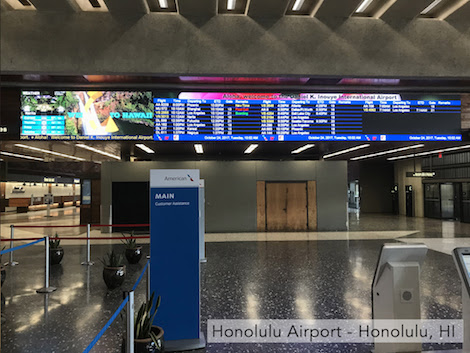 The Daniel K. Inouye International Airport joins a growing list of airports that have turned to NanoLumens for cutting-edge LED visualization solutions that better engage with and inform busy travelers. Other airports include the Darwin International Airport in Australia, the Stansted and Heathrow airports in England, The Sao Paulo Airport in Brazil, the Changi Airport in Singapore, the Vancouver, Toronto Pearson and Montreal Pierre Elliott Trudeau International Airports in Canada and JFK International, Atlanta-Hartsfield, Miami, Detroit and Cincinnati International Airports in the United States.