Adrian J Cotterill, Editor-in-Chief
Propeller has announce a stellar line-up to discuss the past, present and future of Christmas advertising!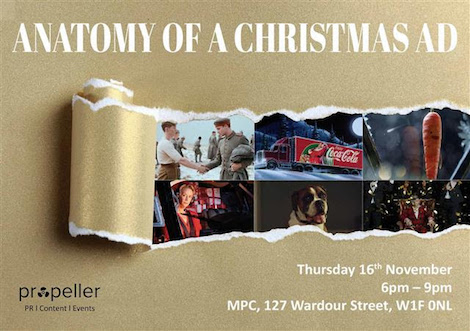 How does a brand 'win Christmas'? What makes a showstopping cracker and how do you avoid a Turkey? And what will be the future of the Christmas advertising arms race? Join Propeller for a live panel discussion on the current state of Christmas advertising at the office of MPC.
Discussion Chairperson:
Sarah Vizard, Content Editor, News and Analysis, Marketing Week
Panellists:
Tim Phillips, Managing Director, MPC Advertising
Will Thacker, Creative Director, 18 Feet and Rising
Dino Myers-Lampty, Managing Director, Mullenlowe Mediahub
Dr. Jane Leighton, Consumer Neuroscience Leader, Nielsen
It's arrival from 18:00 for a drinks reception in the MPC bar before the panel and Q&A at 19:00 in the Screening Room. Click here to register your interest and reserve a mince pie!