McDonald's has launched Traffic Busters, another (unique) roadside campaign that uses traffic data to automate contextual messages, aimed at tempting drivers to visit their nearest McDonald's restaurant. The nationwide campaign reacts to the speed of traffic at each location to deliver tactical messages across premium roadside billboards in the UK from November 6–15,2017.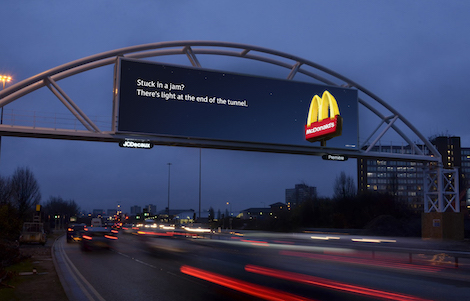 Dan Dawson, Chief Creative Technology Officer at Grand Visual, said "This tactical campaign is a great use of the medium. Simple, tantalising, recognisable product shots stimulate the appetite during fast flowing traffic, whilst longer contextual copy lines run during heavy, slow moving traffic, acknowledging the delays to deliver a relevant and powerful call to action."
Created by Leo Burnett and produced by Grand Visual, the campaign features tantalising shots of McDonald's most well-loved burgers, fries and shakes, but when congestion levels rise, and traffic slows, the creative switches to display the brands iconic illuminated golden arches with the simple, relevant, call to action: 'Stuck in a jam? There's a light at the end of the tunnel'.
Helen Saffer, Business Director at Talon commented "This campaign is the perfect example of Talon's smarter as standard approach to planning, fitting seamlessly with how the client and agency want to use media and push the boundaries. Using relevant data we hand selected key sites on the busiest roads in the UK. Through smart use of data we have used Digital OOH to the best of its capabilities to ensure a contextual, striking and relevant message for consumers".
The media was planned and booked by OMD and Talon and spans multiple screen formats across 10 key cities and spanning seven different media owners. The dynamic campaign is managed and distributed through QDOT's digital OOH ad tech platform OpenLoop. OpenLoop analyses real-time data from Google Traffic API and triggers the relevant geo-targeted playout of content to each roadside location.