Adrian J Cotterill, Editor-in-Chief
Hello London, the media partnership between Transport for London (TfL) and Exterion Media, has today launched DX3, London's newest digital advertising channel. From the beginning of February next year, there will be 60 new digital displays across the London Underground network, hosting dynamic, full-motion content, which customers will be able to watch when standing on station platforms. Jaguar, LG, Gillette, Tesco and EOS are the first brands to display content across the digital network.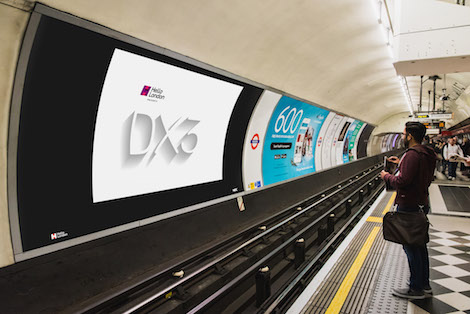 Chris Reader, Head of Commercial Media at TfL, told us "Our new Hello London DX3 network is an exciting addition to the Tube, making it more attractive to brands by allowing them to engage with the London audience and create more memorable moments for our customers. We are investing £80m as part of Hello London to raise further revenues to reinvest in our transport network from our advertising estate, which is already the most valuable in the world."
These digital platform displays are a significant investment in TfL's advertising estate, and part of Hello London's wider strategy, which looks at creative new ways to increase revenue and enhance advertising. TfL has seen an increase in its advertising revenue with more than £140m generated in the last year to be invested back in the transport network.
The displays, which are 4.5m x 2.4m in size, will be located at 15 different Tube stations within Zone 1 and Zone 2, starting at five of the Tube's most popular stations, including Liverpool Street and Oxford Circus. DX3 enables advertisers to reach one of the world's most diverse and engaged audiences with millions of people using the London Underground every day.
Dave King, Managing Director at Exterion Media UK, said: "With Londoners spending more time out of their homes than the rest of the UK, DX3 is a fantastic channel to connect with this hard-to-reach, light TV-viewing audience – complementing video on demand and TV. The high-definition displays will provide advertisers scale, reach, flexibility and immediacy like no other channel in London."
NEC Display Solutions UK produced the projector technical design and telent provided the technical services for installation.
The launch stations for the week commencing 20th November 20, 2017 are; Camden Town, Piccadilly Circus, Holborn, Oxford Circus, and Liverpool Street
From the beginning of February, the displays will be in place across multiple Zone 1 and 2 stations will be complete.