Adrian J Cotterill, Editor-in-Chief
In Australia, Telstra has renewed, following a competitive tender, its partnership outdoor advertising agreement with JCDecaux S.A. (Euronext Paris: DEC), that will see thousands of payphones across the country become digital advertising screens in the first wide-scale upgrade to the network in 30 years.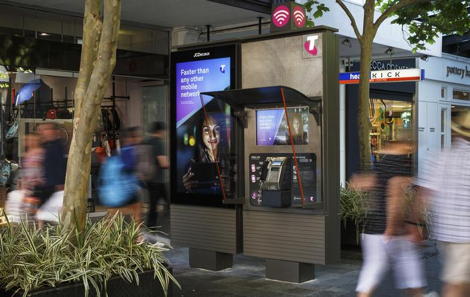 The new 15-year contract will see 1800 Telstra payphones across Sydney, Melbourne, Brisbane, Adelaide and Perth – about 11 per cent of the total network – updated with digital advertising screens over the next two years in addition to existing phone call and Telstra Air Wi-Fi network access capabilities. This will cover 64% of the Australian population and 77% of advertising spend.
Booths will also be fitted with real-time public transport information, community polling opportunities, photo booths, mobile phone charging ports, interactive digital art and multi-lingual and disability services in the first major redesign of payphones since 1987.
The first phone booths are being updated in high-density retail precincts in Perth and Melbourne this week and will include USB charging ports and mobile integration hubs, which will be available to councils and will allow users to swipe their mobile phones to access local information and transport updates.
Telstra CMO and group executive of media, Joe Pollard said "We want to challenge the notion of what a payphone can be in the future and how technology is being utilised in public places. Given out-of-home advertising is one of the fastest growing segments of the Australian media industry, it also made sense to bring these additional revenue streams to payphones. We are always thinking about new growth opportunities that benefit our customers and shareholders, and we see the opportunity to enhance outdoor media in high density urban areas as one of these opportunities".
Jean-François Decaux, Chairman of the Executive Board and Co-CEO of JCDecaux, said "This new long-term contract with Telstra will see JCDecaux Australia install the largest national digital OOH offering in Australia with more than 1,800 digital payphone kiosks in the 5 capital cities. As part of our DNA to creating smart cities around the world, JCDecaux will design the payphone of the future to provide state-of-the art community services. This digital rollout combined with the recent announcement in Melbourne will pave the way for JCDecaux to organically more than double the size of its Australian operations and gain market share in Australia where OOH is only 5% of advertising spend and still fragmented."
We are told that the second phase of updates will be in consultation with community and local councils over the coming months.