Adrian J Cotterill, Editor-in-Chief
VMO, Australia's fastest growing Digital Out-of-Home provider, has announced yet another large format digital screen this time adding more muscle to its health club network. VMO Managing Director Anthony Deeble told us "I'm thrilled to unveil our newest premium large format screen at Fitness First Bond St, one of our flagship locations and arguably one of the busiest health clubs in Australia. The sheer size and quality of this asset is testament to VMO's ongoing commitment to deliver the best digital network in market – designed for impact and engagement."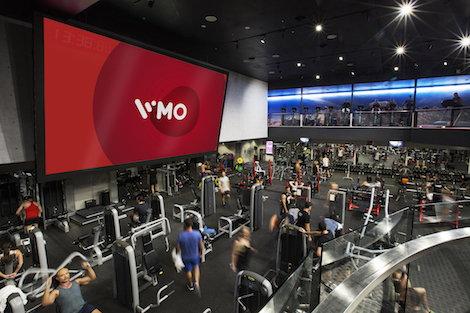 The new Bond Street screen is the biggest in any health club or gym in Australia at 8mx4.5m (36m2) and adding to its impact is the screen's engaging audio-visual capability – a feature that sets the VMO Active and VMO On-the-go networks apart from many other Out-of-Home providers.
VMO's audio-visual network has expanded to 4,000 TV screens in Health Club environments and over 3,100 TV screens across the On-the-go network.
The latest installation is well timed for VMO Active's summer peak period when clubs experience an influx in foot traffic and new memberships – a direct result of Australians prioritising their health and fitness in the lead up to and during summer.
The new addition comes just one month after VMO pioneered Australia's very first 'smart' outdoor screen 'Chevron Renaissance' directly facing busy Surfers Paradise Boulevard.