Adrian J Cotterill, Editor-in-Chief
Late last week, The Sun UK newspaper launched a nationwide digital Out-of-Home campaign that is being dynamically updated with headlines about I'm a Celebrity, Get Me Out of Here! as the latest series of the hit reality show builds towards its finale.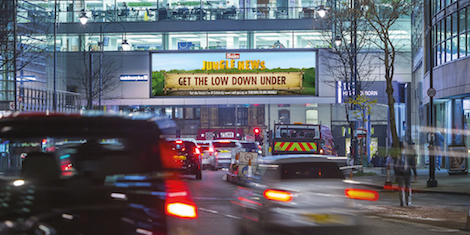 Out-of-Home specialist agency Kinetic has co-ordinated the campaign in conjunction with Pulse Media and DOOH.com on behalf of News UK, publisher of The Sun, to amplify the news brand's coverage of the show during the final week of its 2017 run.
James Gardner, Group Account Director, at Kinetic, told us "We are really excited to be working with News UK on this dynamic campaign. Not only does it tap into content from one of the UK's biggest news media brands but it is going to play a big part in building buzz and excitement around one of the biggest television events of the year. Campaigns such as this show how content, creative and context can form a potent mix for advertisers when they come together in OOH environments."
Creative will be updated twice daily – following the evening show and in the morning with the latest news or exclusive content from the jungle. Executions on December 11 will include details of whoever is crowned King or Queen of the Jungle in the series finale, which will be aired on ITV on December 10.
Kate Bird, CMO, The Sun, said "The Sun remains the country's best brand for UK TV and showbiz and our I'm a Celebrity coverage is a major reason why. Digital Out-Of-Home, with its scale and dynamic nature, is the perfect platform to amplify that coverage and broadcast to the nation that our readers are always first to know what's going on inside camp."
The core campaign runs between December 1 and 11 across a range of digital formats, including 48s and 96s. In addition, creative executions will run for two weeks from December 4 on DX3, the digital full-motion platform recently introduced by Hello London, the media partnership between Transport for London (TfL) and Exterion Media. Content is managed via DOOH.COM and its Rush product.