Adrian J Cotterill, Editor-in-Chief
JCDecaux, the market leader in Digital Out-of-Home (DOOH), has extended its digital offering in the City of London with the launch of Motion@TheCity in key rail termini and the extension of its roadside London Digital Network (LDN), establishing an exclusive advertising presence in the most attractive financial centre in the world.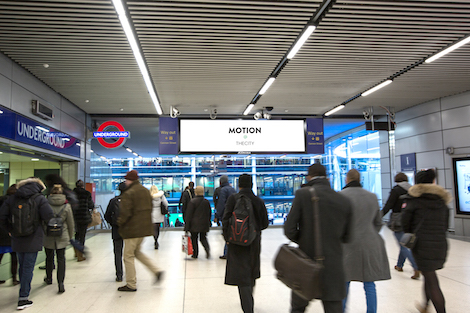 Spencer Berwin, Co-Chief Executive Officer at JCDecaux, told us "The City of London is the finance capital of the UK and the ideal location for brands to target key decision makers and consumers with an income significantly higher than the UK average. In addition, the City of London channel is a media first, allowing brands to reach consumers in a way that has not yet been possible. Overall, the channels are powerful new opportunities for brands to engage highly-affluent and connected City workers with dynamic digital content in the heart of London's financial district. The launches are backed by our commitment to BranDO, our brand first agenda to ensure digital brand safety, measurement and accountability."
With an average salary of GBP 60,000 per annum and showcasing luxury retailers such as Tiffany & Co and Hermes, the City draws a huge GBP 1 billion annual retail spend. As such, it is a prime location for targeting consumers with significant disposable income. Sitting in the heart of this network, the Motion@TheCity channel gives brands the opportunity to reach this affluent audience.
Motion@TheCity sees the installation of five huge new state-of-the-art full motion digital landscape screens in the City of London at London Blackfriars, London Cannon Street, London City Thameslink and London Fenchurch Street. The five new screens are in addition to the four existing screens at Liverpool Street Station and will deliver a total of 16 million weekly viewed digital impressions each fortnight[3]. This new channel is an expansion of the Motion@Portfolio, which currently comprises Motion@Waterloo and Motion@Euston.
JCDecaux has also extended its London Digital Network (LDN) with the installation of six double-sided screens on TfL bus shelters in the City of London. This is the first time digital advertising screens have been installed in this area, making it a media first. The 84-inch digital screens are on key locations including Bishopsgate and Aldgate High Street. The launches are part of the company's target to reach #onebillioneyeballs.