Adrian J Cotterill, Editor-in-Chief
Signagelive, whose digital signage platform is used globally by over 1,900 organisations to manage their networks, has partnered with AskCody to all of their Value Added Resellers and their customers.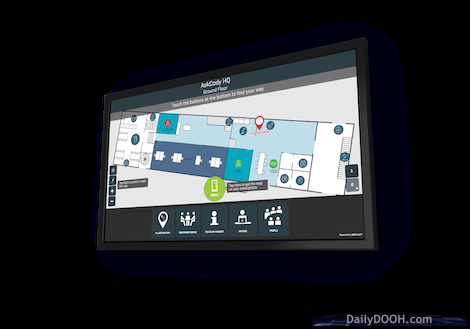 AskCody WayFinder for Signagelive offers a frictionless wayfinding experience for staff and visitors at modern workplaces, college and university campuses, and healthcare facilities.
CEO & Founder of AskCody Allan Mørch told us "Customers are telling us that a flexible workplace environment with the right management tools is key to their future success. It's one of our customers' biggest concerns and requests to have everything regarding meeting room booking and meeting room management integrated well with both their calendar and communication platform (Office 365, Outlook or Google Calendar), as well as seamlessly integrated with their digital signage platform to reduce the number of point solutions in their workplace tech-stack. AskCody brings just that, enabling and empowering employees to manage meetings and meeting rooms with ease, all inside Outlook, Office 365 and Google Calendar. The collaboration with Signagelive allows us to extend the AskCody experience through Signagelive's powerful digital signage platform to customers worldwide, now enabling them to manage meetings smarter."
The AskCody platform accommodates all organisational aspects of meetings, reducing the organisational load while minimising the number of hours spent per employee on organising and scheduling meetings. It aims to help companies simplify administrative tasks, including meeting management, providing workplace visibility and connecting the entire work environment.