Adrian J Cotterill, Editor-in-Chief
ONELAN will be attending #ISE2018 and showcasing a number of new releases, notably card check-in for Reserva Room Signage and enhanced features for ONELAN's SOC solution.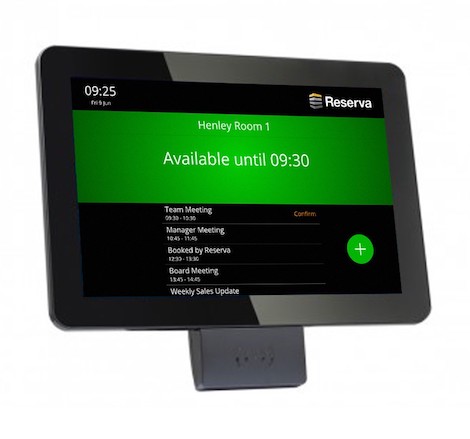 The new Reserva features mean enterprise users will be able to interact directly with the room signs using their NFC/RFID identity cards. Initially via the ONELAN NFS Rendezvous Workspace connector, with check-in support for Exchange and Office 365 support to follow, the benefits for an enterprise include enforcing restrictions on who may check-in to or change room bookings, thereby maximizing the use of valuable room resources.
Using Active Directory authentication, only a validated card holder may book a meeting; they will then automatically be set as the host of the meeting. Furthermore, only attendees may check-in, shorten, extend or end a meeting.
ONELAN also continues its drive into the QSR space delivering a unique failover solution for Samsung Tizen and LG WebOS SOC screens which ensures business critical information such as menu boards, pricing and calorific values are always available for customers, without the need to invest in a redundant network of multiple back-up players, dual output players, or screens.
Furthermore, the addition of audio soundtrack and streaming provides a more engaging experience for a customer and along with additional storage capacity, further enriches the functionality of ONELAN's System-on-Chip (SOC) and Net-Top-Box (NTB) solutions, helping to cement ONELAN's position as one of the industry's leading innovators in the retail and QSR environments.
ONELAN's latest developments demonstrate its strategic commitment to providing scalable enterprise-level solutions to customers, with innovative tools for managing a mixed network of devices. CMS support is available for multiple player platforms, including Linux, Android, WebOS3.0 and Samsung Tizen, and Reserva Room Signage.
ONELAN will be at #ISE2018 on booth 8-C282 between February 6-9, 2018 and the LG booth 12-K90. Pre-registering using the ONELAN code 705233 will provide free admission to the event.
ONELAN's global headquarters are in the UK, with local offices in Germany, Dubai, China and the USA. ONELAN develops network appliances for standalone and end-to-end digital signage and room booking solutions. Further mem­bers of the product family cater for Enterprise network management and integration with external data sources. ONELAN's Net-Top-Boxes and Reserva room signs are now installed in a wide variety of organisations across the world in markets including retail, schools, hospitals as well as corporates such as BBC, Dubai Duty Free, Unilever, and Virgin