Russ Curry, Ministry of New Media
As we made mention last year, a 'Digital Signage Week' would not be a digital signage week without its own dedicated event, focussing on the technology and its uses in retail, corporate communications, smart cities, DOOH and elsewhere.
Building on the tremendous success of the first ever GLOBAL DIGITAL SIGNAGE CONFERENCE which took place last year (in May 2017) we have another great line up of speakers and the conference has a new home, a slightly more intimate, yet quirky space, with lots of great private meeting rooms and breakout areas as well as room for a few exhibits.
The conference takes place at etc.venues Marble Arch, Garfield House, 86 Edgware Rd, London W2 2EA on Tuesday May 2, 2018. Here's the agenda …
08.45 REGISTRATION & BREAKFAST
09.30 Welcome | Adrian J Cotterill | Editor-in-Chief | DailyDOOH
09.45 What's Wrong With Retail and How Can Digital Signage Fix it? | Manolo Almagro | Managing Partner | Q Division
Manolo Almagro leads Q Division, a global consultancy dedicated to offering best in class IoT, connected commerce solutions, data-driven innovation strategies and emerging technology. Q Division provides strategic and executional support for retail tech prototypes, field tests and large scale, enterprise class technology deployments. Manolo was appointed an AVIXA (nee InfoComm) Emerging Trends Fellow for Digital Signage in June 2017 and can often be seen leading retail and technology tours at CES, NRF, ISE, DSE, InfoComm, Mobile World Congress and elsewhere. In fact he is is officially a 'Retail + Emerging Tech Subject Matter Expert: Mobile World Congress Tours' for Mobile World Capital Barcelona and an 'Emerging Tech – Subject Matter Expert' at NRF.
10:30 Creating the Best Customer Experience – The Role of Digital Signage in the Connected Customer Journey | Vanessa Walmsley | Managing Director | Qmatic (United Kingdom) Ltd.
Vanessa will discuss how the digital signage industry and customer journey management industry can work together to provide the best experience for their customers. Vanessa's view is that while the digital signage industry has real expertise in areas such as CMS, content creation and the theatre effect, it needs to start looking at how they can really engage with customers, whether that's in stores, hospitality areas, or other environments.
11:00 COFFEE
11.30 How to Create Award Winning Flagship Branch Designs That Help Great Britain | Paula Rowntree | Head of Branch Formats & Design | Lloyds Banking Group
12:00 Go Niche or be Jack-of-All-Trades? What 30 Years of Digital Signage Tells You | Steve Nesbit | Managing Director | Prestonwood Trail Holdings
12:30 How To Deliver a Retail Strategy that Links Digital Signage and Other Tech Initiatives | Rune Bentien | Chrome Enterprise Business Dev / Sales Manager | Google
13.00 LUNCH
14:00 What Drives Value For The Platform choice And Does it Even Matter? | Panel Discussion led by Peter Critchley | Managing Director | Beaver Group ft. Aferdita Qesku | Director of Sales EMEA | Signagelive, Vangelis Mihalopoulos | CEO & Co-founder | yodeck
Choosing a digital signage player can be confusing; Windows, ChromeOS, Android, standalone Raspberry Pi and / or SoC variants such as as Tizen, webOSor Raspberry Pi, couple that with the choice of commercial Chrome devices, Small/Medium Form-factor PCs, Embedded devices in screens and even Raspberry Pi and the end user has a myriad of options. Are there too many and is it all too confusing? What are the rights and wrongs of them and how should you choose?
15.00 TEA/COFFEE
15:30 How to Create Award Winning Content For Digital Signage | Alex Hughes | Co-Founder | Amigo
16:00 The Evolution and Proliferation of Digital Signage Into Every Day Life | Florin Gale | Creative Director | Microsoft
Florin Gale is responsible for creative and design direction for Microsoft Stores. He leads creative and design direction on all Microsoft product launches (Xbox One, Microsoft Surface, Office 365, Microsoft Band) at Microsoft Stores, as well as ongoing omni-channel marketing campaigns such as Holiday, Graduation and Back to School. This includes campaign creative ideation, messaging and design all the way through production, implementation and deployment in all channels (in-store signage, digital media and interactive experiences, as well as mobile, online, e-mail marketing and social). He directly manages a team made of full time employees, consultants, design studios and agencies. His most recent accomplishments are the launches of the Microsoft Flagship Stores in New York and Sydney.
16.45 Closing Remarks | Adrian J Cotterill | Editor-in-Chief | DailyDOOH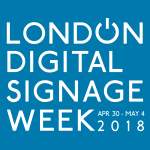 Tickets costs GBP 345 each and you can register here.
London Digital Signage Week takes place April 30-May 4, 2018 and as with its counterpart in New York, the week is for anyone involved with digital signage and interested in retail, employee communications, smart cities, digital out of home and of course digital signage!