Russ Curry, Ministry of New Media
I spent time last week at Quividi's new offices in Paris; bigger, brighter, smarter and generally much, more suited for a company that to many, has seemingly spent ages in a 'startup phase', whereas in reality it's a grown up business, the market leading company in audience measurement and with a solution that is used globally by all of the big brands in our industry.
CEO Ke-Quang Nguyen-Phuc told me a little more about how they were making the most of their time in Amsterdam next week at #ISE2018.
Unlike some folks who hold offsite hotel events during the week but do not fully participate, say on the show floor, Quividi are exhibiting in Hall 8 stand C319 as well as holding one of their now regular partner conferences.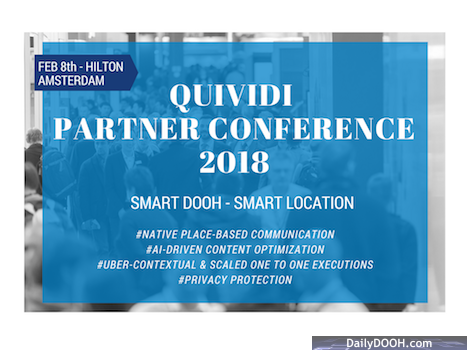 The speaker line up for their Thursday morning event, entitled 'Smart DOOH – Smart Location' is actually pretty impressive – probably not surprising since Denis Gaumondie, now their CMO (since September 2016), has always had a fantastic track record of putting on events during his time as Founder Ooh-TV.
Those privileged enough to attend the event, will get to hear: –
Stephen Gottlich, Senior Vice President ‑ Digital & Strategic Alliances, Gable
Chip Harding, Senior Vice President of Business Development, Simon Malls
Frank Krikhaar, Global CSR Director, Dentsu Aegis Network
Peter Livesey, CEO, Esprit Digital
Tim Hufford, Media Sales Director, Elan Group
Marco Orlandi, Operations & Product innovation Manager – Media & Advertising, Grandi Stazioni Retail
Last year the event attracted well over 70+ people and we understand that this year, the event is also nearly full.
The conference is being held Thursday Feb 8, 2018 from 08:30 to 12:00 (CET) at the Hilton Amsterdam, 138 Apollolaan, 1077 BG Amsterdam, Netherlands. A registration page can be found here.