Adrian J Cotterill, Editor-in-Chief
On Tuesday May 1, 2018, during London Digital Signage Week is the 'Red Solutions Technology Event 2018' which takes place at the Runnymede Hotel, Egham, Surrey, only two minutes from Junction 13 off the M25.
Exhibits include, the solutions and services of their brand partners; ONELAN, Datapath, onemedia, Encoded Media and NFS.
Anyone interested in attending should email rebecca.castles@onemedia.co.uk.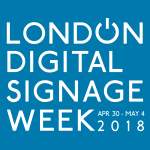 There will also be seminars running throughout the day showcasing the technology capabilities of the brands they represent.
London Digital Signage Week takes place April 30-May 4, 2018 and as with its counterpart in New York, the week is for anyone involved with digital signage and interested in retail, employee communications, smart cities, digital out of home and of course digital signage!