On Thursday May 3, 2018, during London Digital Signage Week, The Retail Academy [1] are once again running a 'Customer Experience – London – Retail Tour'.
Which concepts actually work and what are the trends? What do retailers and customers really want?
Introduction to the topic
Shuttle Service – to relieve tired feet
Five hour store tour
Handout for further reading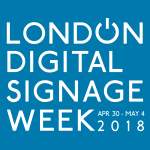 [2]Contact Géraldine Pucken gp@the-retail-academy.com or Hannah Heines hh@the-retail-academy.com for more information.
London Digital Signage Week [2] takes place April 30-May 4, 2018 and as with its counterpart in New York, the week is for anyone involved with digital signage and interested in retail, employee communications, smart cities, digital out of home and of course digital signage!