Russ Curry, Ministry of New Media
Details are emerging about the 'London businessman' described in the Evening Standard who was attacked by a shark while snorkelling in the Galápagos Islands. He turns out to be our industry's very own Andrew Phipps Newman, CEO and Co-Founder of DOOH.com.
Andrew suffered a broken bone and three severed ligaments after the "four-metre long" beast sunk its teeth into his right foot off the coast of Santa Fe.
The Dulwich-based advertising boss – who was holding his GoPro camera at the time – managed to release his foot by repeatedly punching the shark in the face.
But he then faced a three-hour boat journey to the nearest hospital as fellow passengers – including a London doctor – battled to stem the bleeding.
Mr Newman had travelled to the Galápagos Islands, the Ecuadorian archipelago famous for Charles Darwin's wildlife studies, to "find my faith in life again through nature" after the sudden death of his husband Damon in 2016.
Speaking for the first time from the islands, he described how the image of "being face to face with a shark" would never leave him.
He told the Evening Standard: "When I close my eyes, all I can see is the shark's white eye and my foot in his mouth.
"What I ultimately found was how precious my life is and how happy I am to be alive."
Mr Newman was on his final snorkelling excursion, approaching a sea lion on a rock, when he felt "a huge force" clamp around his leg.
He initially thought it was one of his friends playing a "practical joke" but turned around to see the shark's teeth sunk into his foot.
"His eyes were no more than a metre away from me – this massive shark head with white eyes," he said. "We were just staring at each other with my whole foot in its mouth. He wouldn't let go."
Mr Newman – who says he has frequently practised his response to an attack due to a "wretched fear" of sharks – said he felt no pain and immediately went into survival mode.
"I punched him, Go Pro in hand, harder and harder until he let go," he said. "I just went into automatic mode."
Knowing the shark could return, one of Mr Newman's fellow travellers Audrey Lagauche pushed him onto the rocks, ordering him to keep his foot out of the water.
"Half of my foot looked like it was hanging off," he said. "I didn't feel any pain when I saw my bones and tendons.. I could just see the blood pumping."
Mr Newman, who co-founded advertising agency DOOH.com in 2013, was rescued from the rock by a dinghy – only to learn he faced a three hour boat journey to the nearest hospital.
To allay fears of "dying from blood loss", he self-medicated with "some painkillers, a couple of shots of tequila and a mojito" while fellow passengers tried stem the wound's blood flow using towels.
"It was the longest three hours of my life," he said.
One of the travellers was British doctor Kathryn Gilbert, 27, who previously worked in the A&E department at St Georges Hospital in Tooting.
She said: "It was quite the experience, as unsurprisingly I've never dealt with a shark bite working in the UK.
"I just found some strong painkillers and tried to stop the bleeding which we eventually managed with a bandage and a lot of towels."
After arriving on the island of San Cristobal, Mr Newman underwent surgery to reattach the severed ligaments in his foot. Ms Lagauche, 31, an engineer in agronomy, said: "I saw a shark passing close to Andy, but didn't get it had bitten him at first. Then I saw him going up with his foot bleeding and shouting for help.
"Then I looked back down in the water and saw a big galapagos shark right underneath me.
"I swam towards Andy closer to the rocks and pushed him more out of the water as well as myself."
Ms Lagauche, who grew up in South Africa and previously worked in the cocoa industry in the Ivory Coast, added: "I was afraid they would be two or three more coming for us if he didn't get his foot to bleed somewhere else."
Mr Newman's GoPro was lost in the attack, although he said divers had returned to the cove to try to retrieve it.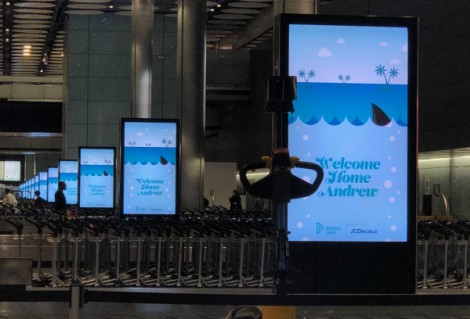 Andrew was treated to a dose of his own medicine on his return to Heathrow, where his friends at DOOH.com and JCDecaux had organised a warm welcome by hi-jacking his his award-winning Heathrow Express Journey Comparison Generator – which won a DailyDOOH 'Reggie' in 2015 as Best Interactive Campaign – and turning it  into a personalised message board (pictured above).
We all wish Andrew a speedy recovery and we hope to see him back to his usual cheeky self as soon as possible…!