QICGRE, a major operator of retail shopping centers around the world has just installed two NanoLumens LED displays.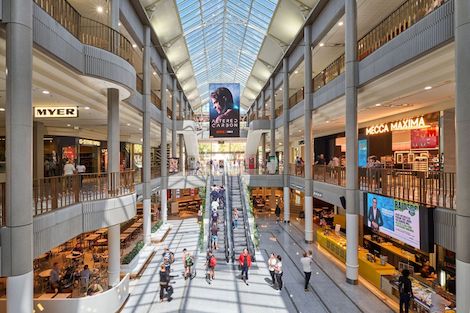 Digital Place Solutions Director Stephen Rubie told us "Large, innovative digital display installations excite customers and provide new revenue streams for retail location owners. With NanoLumens' lightweight and easy-to-install LED displays, we can mount them virtually anywhere a client wants. Our two latest installations at QICGRE's Canberra Centre and Westpoint Shopping Centre show exactly how versatile the technology is, with each double-sided vertical display hanging from the ceiling without any additional infrastructure support. These installations would simply not be possible with any other display technology."
The display at Canberra Centre (shown above), measuring 11' by 19' and weighing 2,100 pounds, and the display at Westpoint Shopping Centre (shown below), measuring 9' by 16' and weighing 1,540 pounds, provide incredibly bright, large, crisp imagery with their 4mm pixel pitch designs. Freed from the constraints of heavy, unwieldy multi-panel video walls, DPS was able to suspend the NanoLumens displays from each location's glass atrium high above shoppers, requiring no major construction or support infrastructure.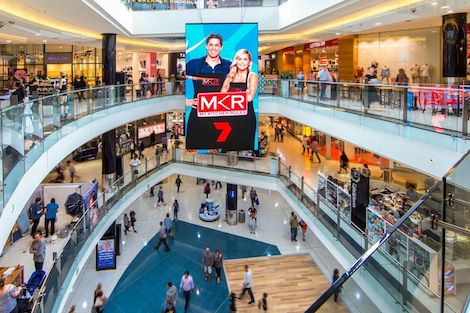 QICGRE's Head of Commercial Dennis Michael told us "We are thrilled with Digital Place Solutions' installation of the NanoLumens displays. The vibrant, oversized double-sided displays are a new point of interest for shoppers that allow us to utilize space that previously was impossible to monetize. Think about it: with Digital Place Solutions able to hang huge NanoLumens displays above busy foot traffic corridors, we are basically creating marketing solutions for retailers and brands out of thin air."
We note that QICGRE required a certain level of performance guarantee, which NanoLumens delivered with its six-year, down-to-the-pixel warranty. Between the warranty and the innovative Nixel-based design, by which the display is comprised of small individual LED panels that snap together seamlessly, any future repairs can be done quickly without impacting the mall's operation.
NanoLumens Vice President of Sales East-US and International Almir DeCarvalho stressed the values shared by each partner. "A transformative business outcome can only result from a team that is committed to excellence in every phase of the project," he said. "NanoLumens provides one very important component of the successful relationship — world class LED-based visualization solutions in any size, shape or curvature a client desires — but it is still only one piece of the equation. It requires the vision of the customer, QICGRE, and the commitment to excellence by our installation partner to bring it all to life in a way that generates a more complete customer engagement solution".

QICGRE owns and manages an AUD18.9 billion portfolio of circa 50 retail and commercial properties across Australia and the US on behalf our institutional investment clients. Our management and investment approach centers on creating vibrant places at the heart of communities. Where people choose to be, and where they feel proud to belong. Places that build local experiences and meaningful relationships; with spaces to support each part of our lives.