Adrian J Cotterill, Editor-in-Chief
Paris-based Mereo, already making great inroads into our industry with its revenue management offering (used by JCDecaux in France and others) has come out with a new Price&Place tool.
We are told that this offers greater flexibility for advertisers in booking campaigns, helps reach their targeted audiences and objectives, often at better discounted rates, while giving media owners the opportunity to sell their spaces without having to resort to abnormally heavy discounts.
One of the keys to this is Mereo's huge base of algorithms. Another is allowing a flexibility in booking possibilities, which includes a literal reshuffling of screens on a daily basis or even hourly, by day-part and more. Further, planning and booking can be done through a website with the client using his own password, or even through an API. In fact, Mereo will be introducing its own API in late spring that will allow companies with their own API to handle their bookings machine-to-machine.
For advertisers who want a commitment to a specific screen or screens, obviously, they will continue to pay a premium. But for advertisers who want to commit to a certain number of impressions by a specific date and within a certain budget, discounts will come into play as the sales house will have a huge reshuffling flexibility, even with specific audience targeting.
All of this will take some training for sales people who until now have worked with a catalogue and for whom there were no standardized rules. Mereo is developing a training guide and will help train the sales people wanting to learn the system that will see revenue saving for both them and their clients.
David Giudici, Mereo's Chief Finance and Sales Officer told us "In order to have the best revenue for the sales house, three major elements have to be mixed: Planning, Pricing and Profitability. Calculation of the price for each campaign will depend on a lot of parameters: day, hour, per panel, per screen, size type, historical prices, incoming demand, buyer profile, buyer sector and sales house strategy, volume, specific price agreements with the buyer, cost of the panel for the sales-house, and more. But all this can be taken care of with Mereo's huge bank of algorithms."
Mereo's product helps the seller analyze the details of each client portfolio and to adapt the media planning for each campaign, whether its for a product launch, branding, crisis strategy, etc..
The idea is to be able to price every small unit that can change constantly. Rather than selling a network of 10 panels over two weeks, Mereo's Price&Place can see various screens priced differently as often as every 10 seconds, but still meeting the advertiser's objectives.
Mereo has over 17 years experience developing and working with its huge, ever-growing bank of algorithms, and has the capability to use its Price&Place system for both Out-of-Home and Digital Out-of-Home inventory.
David Giudici added "Advertisers and network operators should consider where they'd like to be as a company in the next two or three years. Our Price&Place model should allow them savings of anywhere from 2%-to-5% annually. And we believe that we are in the lead among companies developing new planning and buying tools that provide substantial savings while upgrading the way sales people will have to adapt in this fast-moving OOH/DOOH world."
For more information, contact David Giudici directly at 00 33 (0)1 42 46 05 05 or at dgiudici@mereo.fr
On Thursday May 3, 2018 during London Digital Signage Week, David Giudici is presenting a panel at the European #OOH Automation & Programmatic Conference, entitled 'Revenue Management; Customer Analysis and Pricing' which will include a few of his customers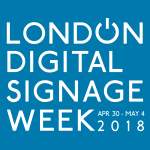 Tickets costs GBP 195 each and you can register here.
London Digital Signage Week takes place April 30-May 4, 2018 and as with its counterpart in New York, the week is for anyone involved with digital signage and interested in retail, employee communications, smart cities, digital out of home and of course digital signage!