Russ Curry, Ministry of New Media
During London Digital Signage Week, RMG Networks are holding Lunch & Thought Leadership session at their iconic Tower 42 offices in the City of London.
The afternoon session includes lunch, networking and drinks is entitled 'Digital Signage of Tomorrow, Today: The crucial role of digital signage technology in creating transformational experiences'.
They've got a very strong line up of speakers. Here's the current agenda: –
12:00: Welcoming at the Iconic Tower 42 – RMG Experience Centre
12:30: Lunch
13:15: Joe Rabah – Managing Director of RMG EMEA – will kick off the day with an eye-opening overview on the topic of how interactive smart digital signage can reshape processes and experiences completely.
13:45: Alex Hughes – Co-Founder of Amigo – How the relationship between technology and content has been redefined for ever
14:15: Networking break
14:45: Bryan Meszaros – CEO & Founder of Open Eye Global
15:15: Maarten Bais – Managing Director at Elo Touch Solutions
15:45 Networking break
16:00: Florian Rotberg – Managing Director and Owner at Invidis Consulting
16:30: Drinks and Networking
The event takes place Thursday May 3, 2018 at
Tower 42, Floor 14
25 Old Broad St.
London, UK EC2N 1HQ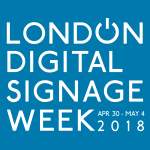 The event is free and registration can be found here.
London Digital Signage Week takes place April 30-May 4, 2018 and as with its counterpart in New York, the week is for anyone involved with digital signage and interested in retail, employee communications, smart cities, digital out of home and of course digital signage!