Russ Curry, Ministry of New Media
On Wednesday May 2, 2018 during London Digital Signage Week You are invited to enjoy an evening designed to inspire you, plus as always a perfect opportunity to catch up with your industry colleagues, and of course meet new faces across our AV and tech industries at this fabulous #WomeninAV event.
The most generous sponsors for this event are Polycom and they will be showcasing their Experience Centre on this occcasion.
The keynote speaker will be Amy Barzdukas, Polycom CMO.
4:20 pm – Welcome from Abi Brown, MD @ Openingz.com, and Pat Deeley, AV Jobs – updates on Women in AV activity and plans
4:25pm Sonal Bisht, Head of EMEA Corporate Communiations & Global Social Media @ Polycom
4.30 pm – Anecdotal viewpoint: Diversity leads to stronger, all-encompassing, strategies (Lynn Gilligan, VP Marketing Strategy & Operations)
4:45 pm – Anecdotal viewpoint: Working in the AV industry has changed my life (Jayne Dimmick, Senior Director – EMEA Theatre Marketing Polycom)
5:00 pm – London Experience Centre tour
5.30 pm – KEYNOTE: Inspiring the women to go up the leadership ranks (Amy Barzdukas, CMO, Polycom)
5.50 pm – Stay tuned for the topic! (Mary McDowell, CEO Polycom)
6.00 pm – Industry viewpoint – (1) Stay tuned for the topic! (Simu Basu, Future Innovation Specialist, Computer Science Teacher, Cybersecurity-Coach at STEM School – Highlands Ranch, – via video conference)
6.15pm – (2) How do we encourage more women into technology careers? (Angela Bos, Technology Specialist, Intelligent Communications, Microsoft, and Women in Technology Lead on the UK Women @ Microsoft Board)
6.30 pm – Q&A with Amy Barzdukas and the industry specialists
6.45 pm – Networking and drinks
7.00 pm – Event close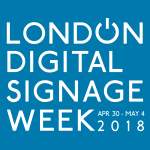 The organisers will be welcoming arrivals from 16:00 with refreshments & opportunity to network – so do join them early!
London Digital Signage Week takes place April 30-May 4, 2018 and as with its counterpart in New York, the week is for anyone involved with digital signage and interested in retail, employee communications, smart cities, digital out of home and of course digital signage!
You can register your interest here.