Russ Curry, Ministry of New Media
If you are in the UK Capital for London Digital Signage Week then this 'Making Conference' might be of interest. It's one day of stories and conversations with groundbreaking inventors, designers, creators and doers.
Confirmed speakers include: –
Lauren Bowker, Founder of THE UNSEEN and Science Editor at Large for DAZED
Julius Roy-Macauley, Producer at ADIDAS
Charnice Blaize, Cultural Marketing at ASOS and Founder of Blazed UK
Olivia Crooks, Marketing at VICE MEDIA and Founder of MADLAND HACK
Scott Cohen, Founder of THE ORCHARD and CYBORG NEST
Charlie Cragg, Founder of NAIL TRANSPHOBIA
Florence Adepoju, Founder of MDMFlow
Scarlett Montanra, Creative at 18 FEET & RISING and co-founder of CRACK + CIDER
Sarah Corbett, Founder of the CRAFTIVIST COLLECTIVE
Paul Akpan, Co-founder of BLACK GIRLS FEST and Social Media for GAL-DEM
Wed, May 2, 2018
9:30 AM – 5:00 PM BST
Conway Hall
25 Red Lion Square
London
WC1R 4RL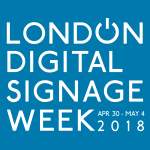 Making London is powered by Eventbrite and Working Not Working. With support from Creative Mornings/London, The Elephant Room, We Are Stripes and Dazed. Find out more information here.
London Digital Signage Week takes place April 30-May 4, 2018 and as with its counterpart in New York, the week is for anyone involved with digital signage and interested in retail, employee communications, smart cities, digital out of home and of course digital signage!