Adrian J Cotterill, Editor-in-Chief
It looks like APN Outdoor have yet again proven their commitment to high-tech and agile outdoor solutions with the launch of the first and only large format digital sign in Ponsonby, located in entertainment precinct, Ponsonby Central.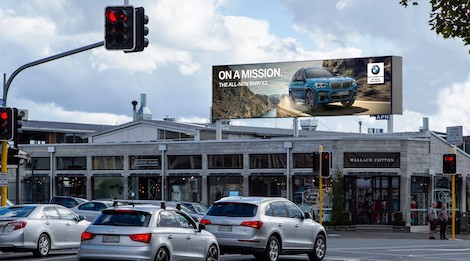 APN Outdoor New Zealand's Country Head, Mike Watkins,told us "The Ponsonby site upgrade follows an already strong start to 2018 for us. "Earlier this year we revealed plans to digitise three other high profile Auckland sites. Both the inbound and outbound panels framing the iconic Parnell Bridge are still on track for end of Q3 and outbound panel of Khyber Pass scheduled for end of June".
Towering high on the corner of Ponsonby and Richmond Roads, this 12×3 metre site impacts over 1.1 million contacts a month, providing excellent frequency rates and exposure to a trendy upper-middle class audience.
Through close consultation with Auckland Council's Heritage team, the design and build of this state-of-the-art digital screen will add an innovative element to the historic Ponsonby streetscape.
With a busy intersection below and perched above multiple lanes of traffic, the digital billboard creates optimal viewing from cars and to pedestrians checking out the unique fashion, upmarket homewares and top quality café's and bars in the immediate area.
The outbound facing panel will capture traffic heading towards the city and heavy footfall due to its prime position in Ponsonby's bustling entertainment precinct. The build date is set for July but the site is available in market from today.
The rapid expansion of APN Outdoor's digital portfolio will see them exceed 30 sites by the end of 2018.