Daktronics [1] was asked by Galleria Tbilisi in Tbilisi, Georgia, to provide a new world-class LED video display system for their premium shopping destination. A total of 11 displays were manufactured and installed this winter to create an enticing atmosphere for shoppers.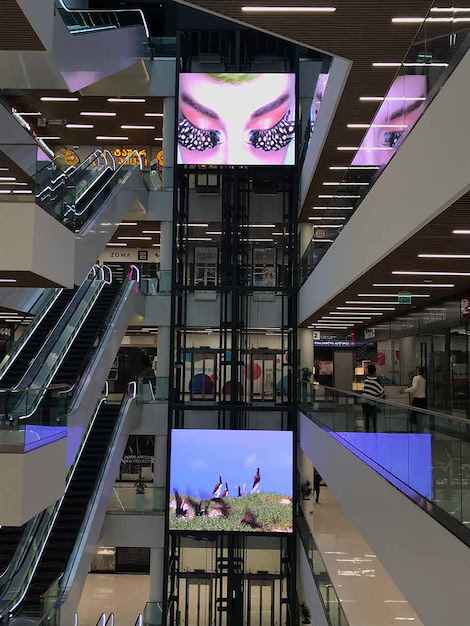 Galleria Tbilisi Director Nika Tsintsadze told us "We would like to thank Daktronics for providing high quality LED video displays. Our tenants and other companies have expressed great will to place advertisements there."
Four displays were installed at 'Link Bridge' locations inside the center, each measuring 1.5 meters high by 9 meters wide. Two displays on the elevator structure each measure 4 meters high by 5 meters wide. These displays feature tight 3.9-millimeter line spacing for high-resolution imagery.
At the mall entrance, five displays were installed to connect with shoppers as they enter. These feature 6-millimeter line spacing.
The Galleria Tbilisi team worked closely with Daktronics to brainstorm the correct solutions for the mall's applications. It led to two displays located on the elevator structure that incorporate high brightness and contrast to provide excellent image clarity and contrast in that space.
Mathieu Verbraken, Daktronics regional sales manager said "The architectural considerations in this beautifully designed mall led our team to provide these nicely integrated video solutions, and the result is staggering,".
Galleria Tbilisi is a multifunctional shopping center in the city of Tbilisi. It is a destination for everyday needs, where it is possible to stop by for any detail – to shop, entertain, dine and get various services.