Russ Curry, Ministry of New Media
If you are an Audiovisual and Integrated Experience Association (AVIXA) member who wants to support women in the industry, and you can be a man or a woman, you have an open invitation to join Avixa Women's Council.
The Council's mission is to provide a global community of AVIXA members and other professionals committed to supporting and empowering women who work in the technology and AV industry.
Similarly whether you're a Digital Signage veteran or just starting out, the Women of Digital Signage organisation provides women in the Digital Signage Industry with a pathway to promote networking, mentoring and personal growth through the development of relationships and new opportunities.
On the evening of October 30, the Avixa Women's Council NYC Metro Group and Women of Digital Signage are inviting industry professionals to join them at the Unilumin Showroom for "Fun in the Sign".
It will be an evening of cocktails and conversation and attendees are being encouraged to dress up for their "Fun in the Sign" theme. The organisers told us "We know that by the end of October, we'll all be craving that summer sun. So, before you pack away that favorite outfit, wear it out one more time at our fun in the sun event!".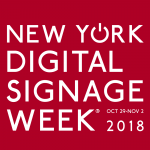 Unilumin have generously donated their meeting space. The food and beverage sponsors include; New Era Technologies, FSR, Sapphire Marketing, Chief, Peerless AV and Brightsign.
The Avixa Women's Council NYC Group and Women of Digital Signage Networking Event "Fun in the Sign" takes place 17:00 – 20:00 on Tuesday October 30. Registration can be found here.
The suggested hashtag for the week is #NYDSW.