Adrian J Cotterill, Editor-in-Chief
This week, in collaboration with its partners, NEC will present display solutions which impact our daily lives, at the NEC Showcase LIVE 2018 which is now in its 10th year.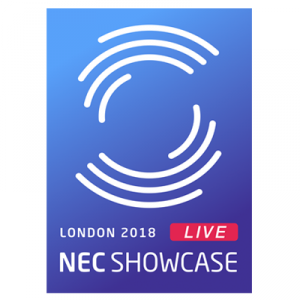 Visitors will be immersed as they enter and led through a typical time-line of their day to demonstrate how technology enriches all of their daily interactions.
The Showcase will feature various aspects of a typical day as visitors follow a time-line to experience technology interactions as they Commute, Meet, Dine, Shop, Work, Learn and go Out & About.
Just a small snapshot of technology highlights include:
Take a stroll along the virtual high street, experience real QSR solutions as used in McDonald's and Pod. Select your ideal rug size using POS projection in the IKEA store.
Enter the retail store of the future with engaging context-aware signage, POS interactive self-service, captivating social media interactions and inspirational creative signage.
Experience how touch and gesture based solutions linked to advertising and promotions help to increase customer engagement.
Innovative and engaging digital out of home signage will demonstrate powerful outreach for advertisers.
Interact with live 3D holographic telepresence.
Experience live VC and collaboration using NEC's all-in-one meeting room and corporate conferencing solution, InfinityBoard.
Compare dvLED, LCD video walls and laser projection technologies, side by side, creating huge digital surfaces.
Chill out in the virtual reality zone and experience audio visual harmony.
Running alongside the Showcase is a small conference programme featuring panel discussions hosted by Owen Ellis of the AV User Group regarding the implications surrounding the adoption of new technologies; and Clive Couldwell, Editor of AV Magazine leading discussions around the emergence of dvLED as an increasingly viable medium.
Gary Kayye of rAVe Publications will speak about the emergence of the collaboration board in huddle spaces and will address the future of projection, suggesting that rumours of the demise of the projector have been greatly exaggerated.
Mark Taylor, display solutions manager at NEC and orchestrator of this year's Showcase told us "Showcase is primarily an experiential show and never before has it been more engaging as we take our visitors on a digital journey! Display technology is changing the way we experience our daily lives – as people today expect more interactive and immersive user experiences, we are setting new standards for engagement," says Visitors can directly access the expertise of our partners to find out how technology can transform the way they communicate and display information."
The Showcase has gained an industry reputation for its networking opportunities and there will be several social gatherings taking place alongside Showcase including the AV Magazine party which will bring day one to a close.
It takes place May 16-17, 2018 and you can register your interest here.