Adrian J Cotterill, Editor-in-Chief
Clear Channel Outdoor (NYSE: CCO), a subsidiary of iHeartMedia Inc., just announced the San Diego Metropolitan Transit System (MTS) has awarded Clear Channel Outdoor a new contract to administer, innovate and grow ad sales across MTS' 550+ buses and 150+ trolleys for up to 10 years. The addition of these highly visible public transit assets makes mass scale transit media buying through Clear Channel Outdoorin San Diego turnkey for brands via one sales point of contact.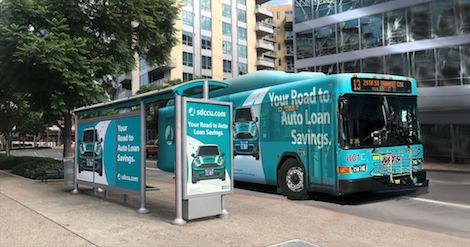 Rob Schupp, Director of Marketing and Communications, Metropolitan Transit System said, "The MTS first tapped Clear Channel Outdoor as the operator and media provider for its 400-plus bus shelters in 2014. Since the partnership began, CCO has demonstrated its strong ability and creativity to market and sell the MTS bus shelters advertising program. Over the last four years, CCO has played an integral role in assisting MTS with a new shelters replacement program that will eventually add up to 100 new bus shelters to the inventory. We look forward to CCO duplicating the same level of success on its new transit and trolleys contract."
Clear Channel Outdoor was awarded this contract through a competitive bidding process. CCO's existing suite of outdoor media in the market included the North County Transit District's (NCTD) Breeze buses, the Coaster and the Sprinter rail, as well as MTS bus shelters. Now with these additional MTS transit products, Clear Channel Outdoor can help local and national advertisers reach approximately 103MM San Diegan riders – 343% more annually.
Lynn Palmer, Vice President, Sales and Market Manager, Clear Channel Outdoor-San Diego told us "We're excited to expand our partnership with the San Diego Metropolitan Transit System. San Diego continues to flourish as a vacation destination with over 34 million annual visitors, presenting a lucrative opportunity for brands to engage with a diverse audience. From hosting Comic-Con, to offering high-end retail and entertainment experiences, as well as having the best beach cities and surfing on the Pacific coast, San Diego has proven itself a desirable location for brands to execute impactful and measurable outdoor advertising campaigns."
San Diego's transit system offers high-impact options to meet a variety of brand objectives and budgets while casting a wide net to capture much sought after Southern California demographics, audience behaviors and lifestyle locations. This includes college students, diverse populations, military, tourists and affluent households. Additionally, the trolleys provide new advertising opportunities for brands to reach attendees at the annual Comic-Con International in San Diego. This world-renowned entertainment and comic convention, that runs from July 19 to 22, this year is expected to attract over 130K+ fans from 80+ countries—many of whom will leverage the ease and efficiency of the MTS transit system for transportation.